Artist of the Week: Alexa Calder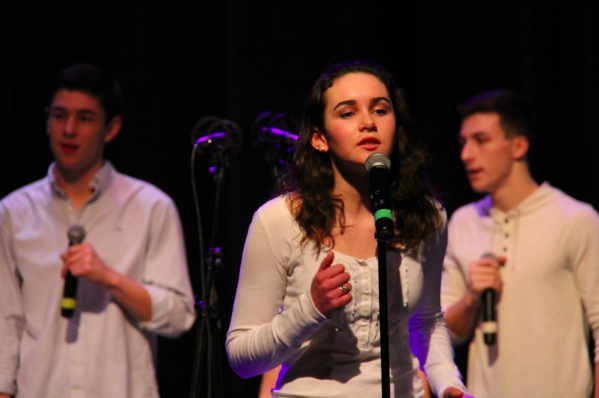 A girl steps up to the microphone in front of the whole school. She stands with members of an a capella group, the Wayland High School Madrigals. Her voice echoes throughout the silent auditorium, and then her fellow group members begin to harmonize in the background.
For some, singing in front of hundreds of people would be a completely terrifying experience, but for sophomore Alexa Calder, this is a typical event. Just like everyone else, she gets nervous, but the nerves quickly disappear.
"When I perform for others I always feel a mixture of different emotions; I get nervous but I also end up having a great time in the end," Calder said.
Calder has been singing for as long as she can remember. She always loves to sing, especially with her older sister, senior Sophia Calder, who she considers to be her role model. Recently, Alexa and Sophia were invited to sing during the Wayland protests at the Islamic Center.
"We both were very excited to go. For me, I think that this cause is extremely important and that in the face of hatred, to respond with a united force of love and community is one of the best things to do," Calder said.
Although she has never taken voice lessons, Calder's voice has brought her much success. She is an important contributor to the WHS music programs. According to Calder, her biggest accomplishment would be making it into the Madrigals as a freshman.
Singing is a tradition that has been passed down in the Calder family. Calder's grandmother is a singing coach, and both of her parents have been a part of choirs throughout their lives. Both of her sisters sing as well.
"[Singing] is very personal, and it's a way to make something from nothing," Calder said. "I sing because it's something I love to do and getting to share that with people is one of the best feelings."