Sean Chase earns 200th wrestling career victory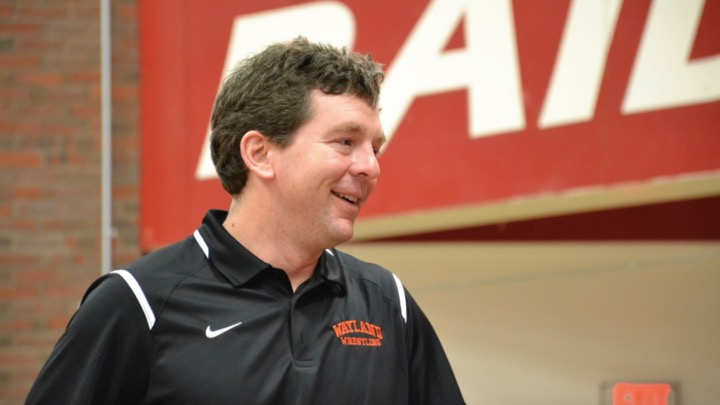 To many students at Wayland High School, Sean Chase is a talented history teacher; you can catch him teaching his lessons and working hard in the history wing. However, he is also known to some as the wrestling coach. On the wrestling mats of the WHS field house, Chase transforms into Coach Chase. Recently, the boys wrestling team helped Chase earn his 200th win.
Chase was born into a wrestling family. Ever since he would walk, wrestling was a big part of his life.
"If you were to go all the way back in Wayland wrestling, my dad wrestled here [and] my uncle wrestled here. My dad [Gary Chase] was the head coach for a while too. Looking at what we call 'The Wall' in the wrestling room, it's like a family tree. My brother-in-law is up there, my cousin is up there. I don't really know any other way of life," Chase said.
With this much dedication towards wresting, you can only imagine the amount of joy and feeling of accomplishment Chase had towards his team. During his own high school career, Chase fell even more love with the sport, and he gathered his own share of accolades.
"Our high school team was always very good; we were DCL champions and we were sectional champions. But we didn't quite rack up the hardware that some of the teams have been amassing over the past few years," Chase said.
As tough as the sport of wrestling appears, the athletes must support each other to remain as a strong team. Chase has been working with his team to maintain the team spirit and keep his boys hungry for more.
"We have a good core of wrestlers who truly enjoy wrestling. Wrestling is a hard sport to enjoy, because of the very nature of it. We have a group of guys who I think for them, it's their identity and they own it and they love it. They love that attention in that direction," Chase said.
However, such accomplishments couldn't have been achieved without the support and time at practice without Chase, Gary Chase, Coach Krasnoo and Coach Parseghian. Together, this group of staff members have stacked up 400 wins. The wrestling team has had the honor of having such reliable coaches such as Gary Chase and Parseghian leading the team for far more than 20 years. Coach Chase has dedicated 20 years to the boys wrestling team and it has payed off as the boys celebrate their 200th win.
"Number one, it's going to be the hardest thing you ever do, but at the same time it will be the most rewarding thing you ever do. That's just something on a personal, individual, level. I think in terms of measuring athletic success, our achievements and records of the years speak for themselves. It's a program that will allow you to be part of the best, whether it's one of the best teams in the school or one of the best teams in the state," Chase said.