Review: Common Cafe and Kitchen
The first things you see when you walk into the aesthetically pleasing Common Cafe and Kitchen (the former Bakery on the Common) are laptops, children, and coffee. The once homey cafe went through a major transformation in fall of 2016 that has turned it into a chic, modern, and polished bistro. The question is: Can the once beloved cafe still live up to the hype as a new establishment?
The first time I visited the cafe was in January. Cups of coffee rested next to MacBooks, which seemed to be at every single table. Children climbed on seats and under tables. Upbeat jazz music played in the background and the pitter patter of high heeled boots on the wooden floors rang throughout the cafe. The atmosphere was cheerful, studious and talkative.
The Common Cafe and Kitchen serves breakfast and lunch, as well as several different types of drinks and coffees. Their breakfast menu is much smaller than their lunch menu, and they sell a wide variety of pastries that are appealing to most.
The first time I went, I decided to grab lunch. I chose the "pollo" ($11.00), which is a roasted chicken, mozzarella, tomato, and pesto sandwich on ciabatta. The bread was grilled to perfection and slathered in butter, making for a "perfect crunchy" and delectable bite. Overall, the sandwich was extremely flavorful, but the serving size was a bit too large. I ended up only finishing half of the sandwich. This is coming from a girl who really likes to eat… a lot. I gave the other half to my friend.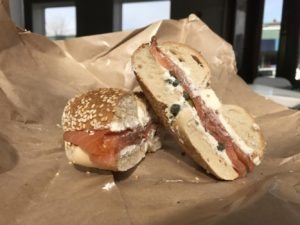 Credit: Aimee LaRochelle
The second time I went to the cafe, I grabbed breakfast with two other people. The total bill came out to be $46.00. This is a little pricey for breakfast, especially since the Common Cafe and Kitchen is not a formal sit-down restaurant.
I ordered the "French toast bread pudding" ($7.00), an almond croissant ($4.00), and a caramel macchiato ($4.00). The french toast was incredibly sweet and moist, and it was smothered in a cinnamon coating. Atop it lay perfectly placed powdered sugar, and fresh berries littered the plate. As someone who loves all sweet things, I completely loved the french toast. But, one of "my fellow diners" said they thought it was overly sweet. Also, the portion size was extremely small. There were only two small strips of toast on the plate, which prompted me to order the almond croissant.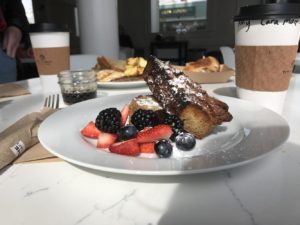 Credit: Aimee LaRochelle
It was fabulous. It was big, fluffy, and filled with a sweet almond spread that left a glacé taste in my mouth. I could tell that it had been baked that morning because it was warm and easy to pull apart.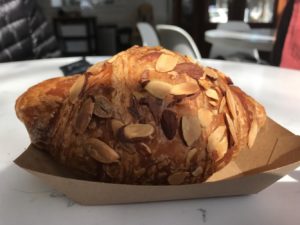 Credit: Aimee LaRochelle
The caramel macchiato was pretty good up until there were only around ten sips left. It became so sweet towards the end that it was almost painful. I couldn't drink it anymore and threw it away.
The third time I went, it was a Sunday and there were several more breakfast options. I tried the "classic breakfast" ($11.00) which consisted of two eggs, potatoes, sausage, and rye toast. The scrambled eggs and toast were great. They were perfectly cooked and had great flavor. The sausage, on the other hand, tasted kind of strange. I could tell that it was homemade because it didn't taste like any sausage I had ever eaten before. The spices and flavors were completely new. It wasn't bad, but it wasn't good either.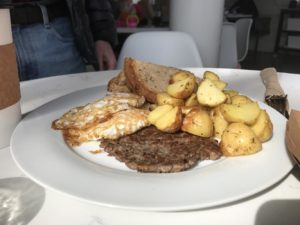 Credit: Aimee LaRochelle
The potatoes had good flavor but needed to be cooked longer. There wasn't a single piece of potato that was in the slightest way browned.
I also ordered a dark roast coffee ($3.00) which was another story. It was completely flat and watery. It wasn't the worst coffee I'd ever had, but it was pretty close.
Overall, the Common Cafe and Kitchen lived up to its hype, but a large part of this was due in part to its chic decor and comfortable atmosphere.
Next time I go, I will bring my laptop so I can get some work done, and I'll order a pastry or sandwich. The pollo sandwich and its buttery bread pops up in my mind from time to time. Maybe I'll go back today and pick one up.
Opinion articles written by staff members represent their personal views. The opinions expressed do not necessarily represent WSPN as a publication.