Behind the scenes of the Wayland High School Pep Band
The bright lights of a Friday night Wayland football game shine down on the turf. The often chilly air pushes students close together on the tightly packed bleachers, their cheers drowned out by the clashing percussion and loud tune of the Wayland High School Pep Band.
The Pep Band plays a variety of songs with a variety of instruments during every home football game. Wayland's Pep Band is an old tradition where the bass instruments and their musicians pile up the second section of the bleachers to play tunes from Ozzy Osbourne's "Crazy Train" to Deep Purple's 1972 "Smoke on the Water" and everything in between.
The band is there to do as its title implies, 'pep' up the crowd; to get people hyped and excited for situations within the game. However, being a member of the Pep Band and preparing for a game is a lot more complex than most students may think.
Joseph Oneschuk has been the director of the Pep Band at Wayland High for 18 years and has enjoyed it every year. He enjoys giving power to the student members of the band as far as song choices and new instrument integration go.
"We rehearse during band class, and we play a lot of different pep band pieces of which the students get to pick quite a bit of their music, which is something I really believe in," Oneschuk said. "Pep band's exciting, it's a school spirit activity. As you know, music adds a lot to anything. Imagine watching a movie without music, like Star Wars without music or Harry Potter. So having music at a football game is key and integral."
As one could imagine, playing such a wide variety of songs takes a lot of practice and preparation before football games. The Pep Band usually rehearses two or three times a week.
The Pep Band doesn't exclusively play what you hear at home games during their preparation.
"We sort of work in regular concert band music," Oneschuk said. "We rehearse before the football game early because both wind ensemble and concert band meet at separate times, so it's definitely a time to play together. That's the other piece I really love about pep band; everybody plays in it, so kids that normally wouldn't get a chance to sit with each other do, and I love that."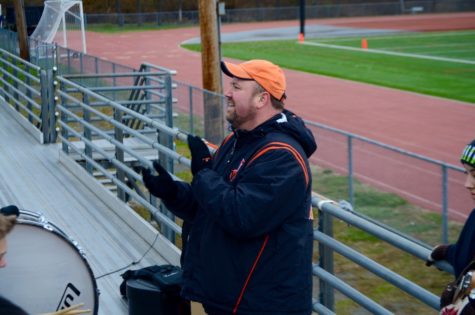 Regardless of tough preparation, Oneschuk and his band students love being members because of its impact on the school and the extra element it adds to surreal Friday night football games.
"Some schools have pep bands, some schools have a massive marching band program, some schools have nothing, and you know Pep Band is something I really believe in," Oneschuk said. "I think it's part of the fabric of the high school. I think to have the band there, having the cheerleaders, having the players, I mean it's Friday night lights and it's an event that brings everyone together. I've had a lot of football players and cheerleaders in the band and it's really cool to see them in another light."
Oneschuk has enjoyed directing the pep band and has many memories from his years playing at Friday night football games.
"Tony Park last year came up and played drum set at halftime, which was one of the coolest things I've ever seen," Oneschuk said. "Just developing that relationship with the athletic department and music is so important. We have different subject areas, but really the whole concept of school spirit is good sportsmanship and good musicianship."
Oneschuk and Head Football Coach Scott Parseghian began a tradition years ago where the football team ushers the winter band concert.
"To my knowledge, no other town in the state does that, and when I tell other band directors that the football team ushers the winter band concert, they're amazed," Oneschuk said. "I just love that we have that relationship and that support for each other."