Artist of the Week: Dale Lippincott
Being a dancer can be exhausting. Not only does it require hours of practice, dedication and determination, but it also demands commitment and focus. Junior Dale Lippincott is very familiar with the dance lifestyle.
Lippincott began her dance career at a young age.
"I started dancing when I was two or three years old," Lippincott said. Ironically, dance wasn't a perfect fit right away. "I kind of stopped for a while and played soccer," Lippincott said. "[But I] got back into [dance] in second grade."
By second grade, Lippincott knew that dance was for her.
"It was my main focus," Lippincott said. "I was juggling dance and soccer for a little while, but as time passed I really started to focus on it. I enjoyed dance the most."
With Lippincott's dedication to dance came a busy schedule.
"Right now, I dance five days a week," Lippincott said.
Describing a typical week, Lippincott begins with Monday.
"I go to dance for two hours at night, and that's my team practice. Tuesday I have ballet, solo practice and modern, so I'm there for four hours. Wednesday is my day off unless I'm helping teach a class. Thursday is similar to Tuesday, I have ballet and jazz, so I'm there for three hours; and Friday I'm at my studio from four to six for a Step Above rehearsal, which is a student-run dance group I'm in. Also, Saturday I have a Step Above rehearsal from eight to nine-thirty in the morning."
Being so involved in an activity outside of school poses some challenges for Lippincott.
"I'm the only one with my specific dance schedule from Wayland, so it's hard," Lippincott said. "I'm not connected to the school through a sports team or other school run activity." Lippincott explained that as a show nears, rehearsals intensify. "I'll have a lot of extra rehearsals, so I can't always go to our school sports games," Lippincott said.
Although her busy schedule often conflicts with school events, Lippincott's hard work at dance pays off.
"I've been competing for a while in small groups, like solos or trios, and I've placed in the top five for multiple competitions," Lippincott said.
Earning awards in competitions is not the only accomplishment Lippincott has achieved. Making Step Above, her studio's student-run dance team, was no easy task.
"We have to audition to be in the group," Lippincott said. "So when we finally put on our show at the end of the season, it feels like a big accomplishment because we choreograph the dances ourselves."
There have been many moments throughout Lippincott's dance career that have been rewarding, but one of her most memorable moments was her first solo.
"I was in middle school, and that was the first time I ever competed with my solo," Lippincott said. "I was younger than a lot of girls competing, so it felt like a big deal to me at the time."
Lippincott likewise remembers making Step Above as one of her most beloved dance moments.
"I had always wanted to be a part of it, so I was very excited to make the team when I auditioned," Lippincott said.
Lippincott is also a part of the Wayland High School dance team, "Window," which helps her to bridge the gap between her dance life and her school life.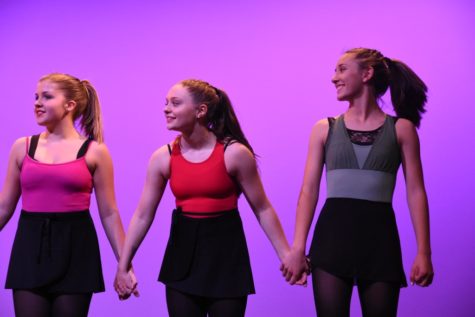 "It's pretty similar to Step Above," Lippincott said. "Window is also student-run, but it's different because we're learning routines rather than focusing more on tricks and technique."
There are many reasons why Lippincott loves dance, but one of the main reasons is that she loves performing in the shows.
"It's really fun, with all the costumes and the hair; the shows are super fun," Lippincott said.
Lippincott explained that the relationships she has built with her teammates are the best part.
"It's a great bonding time, and I've made some of my best friends through dance," Lippincott said.
In her years following high school, Lippincott hopes to continue dancing.
"I would like to keep [dancing]. It's been such a big part of my life so far, so I'm hoping to continue after high school," Lippincott said.