Warrior Weekly: Georgia becoming title contender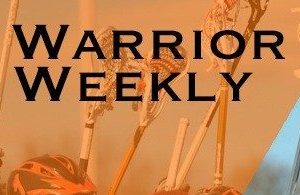 Hang on for a minute...we're trying to find some more stories you might like.
Duncan's College Football Top 4 – Week 6
1. Alabama Crimson Tide
Alabama looks somewhat mortal this week, as they struggled slightly with Texas A&M on the road. But, the Crimson Tide won again, and at this point the only team with any shot of beating them in the regular season is Auburn.
2. Clemson Tigers
They didn't look quite as good as last week, but a solid victory over a solid team (Wake Forest) is good enough to keep them at #2.
3. Penn State Nittany Lions
Like Alabama and Clemson, Penn State beat a solid conference opponent on the road. Wasn't pretty, but they got the job done. Their running game has been inconsistent lately. Look for them to get that cleaned up.
4. Georgia Bulldogs
I really hope Georgia goes into the SEC Championship game undefeated, which would set up an epic clash with Alabama. The Bulldogs are an almost identical team to Alabama. They have a quarterback who can make plays, but is limited throwing downfield. They have an elite ground game, and a great defense.
Heisman Watch:
1. Saquon Barkley, RB, Penn State – 1,044 total yards (8.0 per touch), 8 total TDs, 1 KOR TD
2. Bryce Love, RB, Stanford – 118 carries, 1,240 yards (10.5 per carry), 9 TDs
3. Baker Mayfield, QB, Oklahoma – 1,635 yards, 15 TDs, 0 INTs, 74.6% completion
Game of the Week: (12) Oklahoma Sooners vs. Texas Longhorns – 3:30 ET – ESPN
Oklahoma must bounce back after a bad loss at home against Iowa State. Texas has been improving ever since their season opening loss to Maryland, and look to hand Baker Mayfield and the Sooners their second straight defeat. The Red River Rivalry is always a good game.
Prediction: Oklahoma 41, Texas 31
C.J:
Eagles vs. Panthers
Dolphins vs. Falcons
Packers vs. Vikings
Lions vs. Saints
Patriots vs. Jets
49ers vs. Redskins
Bears vs. Ravens
Browns vs. Texans
Buccaneers vs. Cardinals
Rams vs. Jaguars
Steelers vs. Chiefs
Chargers vs. Raiders
Giants vs. Broncos
Colts vs. Titans
Andrew:
Eagles vs. Panthers
Dolphins vs. Falcons
Packers vs. Vikings
Lions vs. Saints
Patriots vs. Jets
49ers vs. Redskins
Bears vs. Ravens
Browns vs. Texans
Buccaneers vs. Cardinals
Rams vs. Jaguars
Steelers vs. Chiefs
Chargers vs. Raiders
Giants vs. Broncos
Colts vs. Titans
Charlie:
Eagles vs. Panthers
Dolphins vs. Falcons
Packers vs. Vikings
Lions vs. Saints
Patriots vs. Jets
49ers vs. Redskins
Bears vs. Ravens
Browns vs. Texans
Buccaneers vs. Cardinals
Rams vs. Jaguars
Steelers vs. Chiefs
Chargers vs. Raiders
Giants vs. Broncos
Colts vs. Titans
Current Standings:
C.J: 38-24
Andrew: 35-27
Charlie: 19-11