Student council to host spikeball tournament for hurricane relief
A schoolwide spikeball tournament will be hosted at Wayland's Cochichuate ballfield by the Wayland High School student council on Monday, Oct. 16 at 7:00 p.m. Admission will be five dollars per person, and all proceeds will be donated to hurricane-ravaged Nottingham Elementary School in the Houston, TX area.
Student council Vice President Kanming Xu hopes for the participation of about 80 students, around 10 percent of the student body.
"With teams of four, we would like around twenty teams," Xu said.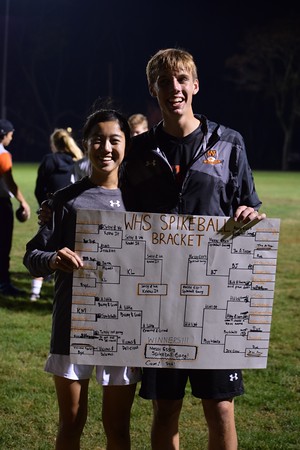 This would net four hundred dollars in admissions, which would be directed to Nottingham Elementary School. The transaction will be processed through Nottingham's parent-teacher organization. Wellness teacher Rachel Hanks was able to contact and open a dialogue with the school.
"We came up with the idea that we could maybe combine the spikeball tournament to [also] be a hurricane relief fundraiser, and [the student council] liked the idea," student council President Jaylen Wang said. "So we just needed to find a place where we could really make a direct impact."
The student council also discussed admission prices but decided it was best to retain the same $5 cost from last fall's tournament.
"I talked about maybe raising it to ten dollars, but generally people said that probably wouldn't work, so we stuck with five dollars," Wang said. "Hopefully we can get a lot of teams; we thought that by keeping the price low, more people would sign up."
Sophomore Jack Wuerfl, a participant in last year's spikeball tournament, noted that for a noble cause such as hurricane relief, he would be willing to spend as much as 15 dollars. However, he recognized that that wouldn't work for everybody.
"I think [the spikeball tournament] is a really good fundraiser and [donating the proceeds] is a good way to [use] the money because there's been a lot of devastation," Wuerfl said.
Teams from last year's student council-sponsored tournament consisted of one female and one male. This year, the student council has decided to mix things up. Teams of four will compete against one another with the goal of making it to the end of the bracket.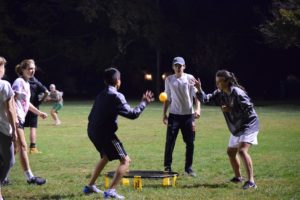 "We tried to come up with a system that will be pretty inclusive for everyone," Wang said.
According to Wang, when two teams are matched up, the two males on one team will play to two games against the two males on the other team. Then, the two females will play the two females on the other team. If one team wins both of those games, then that team won. But if the male and female teams split, then they go to a tiebreaking game where one male and one female from each team are selected and play each other for the win.
"I like [the new format] because I think you're going to get to play more," Wuerfl said. "You have to play like three rounds, which is going to be fun. And you can also be with more people, so you don't have to choose individuals. When it comes down to the third game and you have to choose one boy and one girl, that's going to be competitive within the groups. But I think it's going to be fun. I think it's a good idea."
Wuerfl plans on participating in the upcoming tournament, but would still attend even if the old format remained in place.
The fast-paced game of spikeball first became popular when it aired on the television show Shark Tank and took off from there. Spikeball is a team sport where two teams of two compete to be the first to reach 21 points. The small, yellow, rubber ball has to be hit onto the black net, and there are no boundaries as to where players can stand while playing. One team scores a point when the other team hits the rim or ground with the ball or allows it to bounce on the net twice.