Grand Canyon trip to be held in April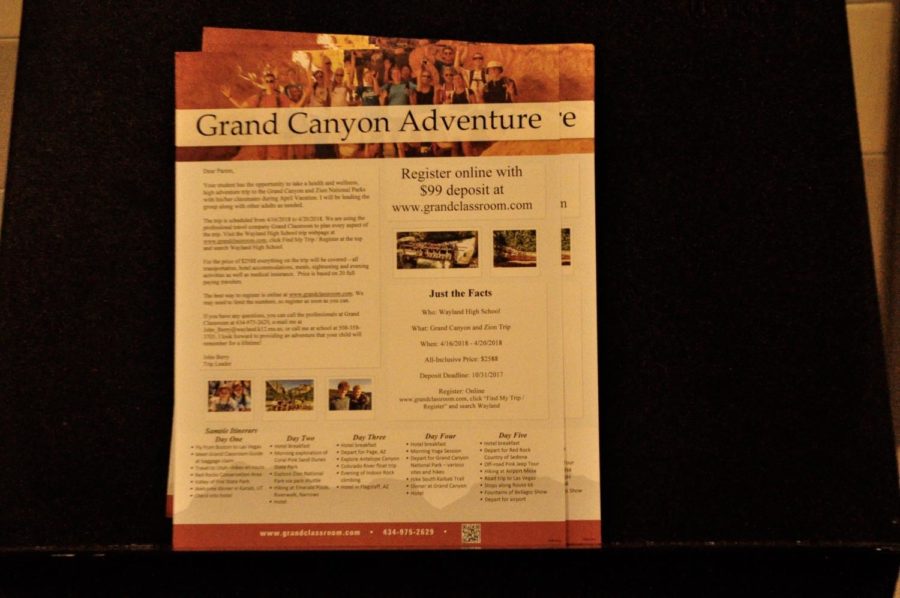 This April vacation, up to 40 Wayland High School students will have the opportunity to travel to Zion National Park, Grand Canyon National Park, and Sedona, Arizona. All WHS students are eligible to attend. The major focus of the trip is on physical activities, for it will have ties to the wellness curriculum at WHS.
"[Grand Classroom] organizes and plans trips to national parks all around the country, and that was something I was very interested in," wellness teacher and trip organizer John Berry said.
Berry, the leader of the trip, met with a representative from a company called Grand Classroom, which leads trips to national parks. Berry was very interested because of his passion for national parks. After graduating college, he spent more than two months touring different parks around the country.
"When I graduated college, I took two and a half months off and traveled the country, and I went to 25 national parks. I've been to both the Grand Canyon and Zion," Berry said.
The action-packed trip, which takes place from April 16 to 20 during April break, will consist of students spending the majority of the time outside participating in various activities.
"We will be doing some big hikes," Berry said. "Depending on the weather, and what's available, we want to do some 3-6 mile hikes [with] some decent elevation. A lot of what we will do is going to depend on the group's skill set."
However, the trip will consist of much more than just hiking.
"There will be sunset yoga at Grand Canyon National park, [and] it will be right after we do a big hike down the canyon and then back up. We will finish with some recovery yoga as the sun is setting, which should be pretty awesome," Berry said.
Another activity that incorporates the wellness curriculum is mountain biking.
"We'd like to do some mountain biking [as well] because the wellness department just got mountain bikes," Berry said. "We would like to use these mountain bikes to kind of connect the curriculum with the mountain biking that we're doing in wellness class to what we [will do on the trip]."
The final day of the trip will consist of pink jeeps, which are off-road jeeps that drive over boulders and rocks. It will take place after students hike partway down the canyon and return to the rim.
Berry has a few different goals for what he wants students to get out of the trip, and he believes there will be multiple takeaways from the experience.
"I want students to learn, to use what we're doing in class, and [to] be able to apply it to an outside experience. We talk about health and wellness a lot in class, but I want [students] to understand the value [of] living a healthy life, and being physically active," Berry said.
Berry believes the students will have a new appreciation for nature and gain an appreciation for what we have in this country.
"The other outcome I would like is for students to form a good connection with each other," Berry said. "One of the things I love about trips like this is that students create a community. Connections to each other and connections to the school improve mental health, as well as connections to nature."
He compared the trip to a part of the wellness curriculum, called Project Adventure. Project Adventure is where classes have access to both the high and low ropes courses at WHS.
"Being given an opportunity to experience nature, see different settings, and connect it to the adventure curriculum that we have sophomore year is something that's very exciting for me," Berry said.
For Berry, having the opportunity to spend time with students and allow them to discover parts of the United States' heritage is very important.
"I am most excited for getting to experience going [to the parks] with students, and some folks who might not have been there [before]. I think spending time with the students while doing activities is going to be the most fun."
The plan is to have a 1:8 staff to student ratio. K-12 Wellness Director Scott Parseghian will be accompanying Berry.
"Right now it's going to be me and [Parseghian], and the more students that sign up, the more [faculty] I'll bring along. I have a long list of staff members who want to chaperone, but we need more students to bring more staff," Berry said. "As more students sign up, more staff will be able to come on the trip."
The number of spots is limited, even though the trip is available to a wide range of students. Twenty is the minimum number of students needed for the trip to occur; however, up to 40 students are eligible to attend.
There will be an information meeting held after school on Wednesday, Oct. 25. Forty spots will be available, on a first come, first served basis. There are flyers outside of the WHS fitness room with information on the trip.
About the Contributors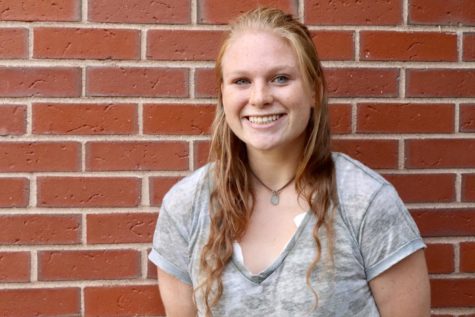 Caitlin Newton, Managing Editor
Caitlin Newton, class of 2020, is in her third year of journalism. She is the managing editor this year and was the features section last year. She plays...