This fall's latest fashion trends
With fall in full swing, the weather is getting colder and colder, and sweater weather has finally fallen upon us. We've summed up the latest fashion trends that you should have in your fall wardrobe. We've also inserted links to some of our favorite styles from online stores under each category.
Denim Skirts: A denim skirt is definitely a staple that you should have in your wardrobe. It's another comeback trend from the 70's and can be dressed up in almost any way. Denim, in general, is really in right now, and denim skirts are just perfect for that seasonal transition.
1 / 2 / 3
Tube Tops: You've probably seen these on almost every blogger's instagram. The 90's trend has been revived and tube tops are the new off the shoulder tops. If you don't already have this piece in your closet, you should definitely invest in one. Tube tops are extremely practical and another perfect season transition piece. They have the airiness for the summer, but can be also layered to create fresh looks in the fall.
1 / 2 / 3
Sweater Dresses: It's that time of the year, sweater weather, and what better way to dress up for the season than with a sweater dress? Sweater dresses are always a go-to in the fall, and you can always find one that fits your style. The great thing about sweater dresses is that you can dress them up or down and style them however you want.
1 / 2 / 3
Cropped Sweaters: Cropped sweaters are another great transition piece to always have in your closet. Cropped sweaters are extremely convenient because you can wear them on their own or you can layer them. When it's too warm for a chunky sweater, but too cold for a t-shirt, cropped sweaters are the perfect choice.
1 / 2 / 3
Mustard Sweaters: A nice mustard sweater is a great way to make a statement. Not only is the mustard color a great look for the fall, but it can be matched with all different kinds of bottoms. From a black skirt to your everyday jean shorts, a mustard shirt or sweatshirt can pop against the the occasional gloomy fall day. Don't be afraid to spark it up with some accessories as well!
1 / 2 / 3
Gingham Print: Gingham print is back in town! The bold stripes of a gingham print are perfect for a nice fall day. Whether the clothing article is a long sleeve shirt or romper, the crisscross pattern promises to stand out against any skin tone. The majority of prints come in black, blue, red and white. However, it's completely up to the wearer to style and rock the print.
1 / 2 / 3
Stripes: Striped clothing is becoming more and more popular due to its versatility. Crush a striped outfit with the assistance from a casual blazer, or even some urban styled overalls. Striped shirts can be styled as casual or bold. A solid color against the design of the stripes is a great way to keep it casual. Or, add some jewelry and bright shoes, and you have a bold look.
1 / 2 / 3
Boyfriend Jeans: If flared jeans are too loose and and skinny jeans are too tight, then boyfriend jeans might be the thing for you. They're a lot more comfortable than your average skinnies and can be dressed either up or down. Boyfriend jeans have been a thing for a while now, and celebrities like Rihanna and Kendall Jenner can't get enough of this laid back look.
1 / 2 / 3
About the Contributor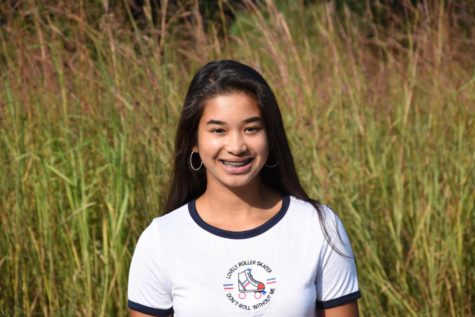 Audrey Camacho, Staff Reporter
Audrey Camacho is a senior. This is her second year with WSPN and she looks forward to interviewing other students and contributing to multiple galleries....