Wayland girls' soccer defeats top-seeded Saugus in playoffs
The 16th-seeded Wayland girls' varsity soccer team recently pulled off a major upset against the top-seeded Saugus, an undefeated team known for its stalwart defense. On paper, Wayland's chances were slim to none, as they were the lowest ranked team in the tournament going up against the highest. However, Wayland ended up defeating Saugus 4-1 on Nov. 3.
"It seemed like everyone else thought we had no chance, but we knew we had been improving all season, and we believed that the statistics didn't define the two teams," sophomore Kayla Poulsen said. "What really mattered was how we played on the field. We knew if we played our game, we would at least have a shot at winning."
Leading up to the first playoff game of the season, Wayland studied tapes of Saugus playing, then practiced based on the weaknesses they observed. They noticed that Saugus had a high sweeper, a defensive player who helps to prevent the opposing team to score any goals, so they knew that they wouldn't be able to kick the ball high over their defense.
"We worked really hard this past week in practice, and the day of the game we made sure we were really focused," senior captain Brooke LaPierre said.
The team left Friday at noon to travel to Saugus High School for a 2 p.m. game.
LaPierre gave Wayland a 1-0 lead with her corner kick just ten minutes into the game, but 20 minutes later, Saugus tied it to make the score 1-1 at the half.
"Right from the start,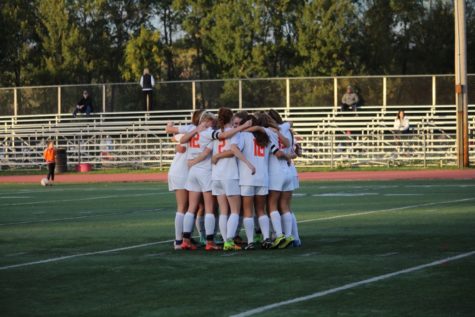 we were dominating the game. During our warm-ups, we could tell that we were more focused and hyped for the game than they were," LaPierre said. "We continued to control the game, but with just ten minutes left in the first half, they came back to tie it up."
Tied at the half, Wayland was motivated and ready to continue their game. They focused on what they'd done well and what they could improve on to close out the victory.
"There was definitely a burst of excitement when Brooke scored her goal," Poulsen said. "But with Saugus answering the goal shortly after, we definitely had to regain our focus and show them that we weren't going to settle for just one goal."
"Seeing that Saugus was undefeated, we knew that they weren't experienced in close games," LaPierre said. "Throughout our season, we've gone up against some tough teams, so we know how to bring up the energy in the second half. We had a really productive halftime talk and everyone made sure to stay positive for the rest of the game."
The girls knew what they had to do in order to win, and they continued to push through in the second half.
"We knew we had to shut them down and continue with the goals. We pushed through the heat and we knew we could win as long as we kept playing as a team," senior co-captain Kayla Mabe said.
Six minutes into the second half, junior Eden Vanslette scored a goal to take the lead. After that, senior Lindsey Barnard put another ball in the back of the net with the assist of freshman Abby Gavron, making the score 3-1 in favor of Wayland. Almost 30 minutes into the second half of the game, Poulsen, who is one of the team's leaders in goals, scored on Saugus for Wayland's last goal of the day, making the final score 4-1.
"Throughout the entire game, everyone on and off the field contributed. The [players] who don't get that much playing time made sure they contributed in other ways," LaPierre said.
Those who didn't get to play still played a crucial role in the Friday's victory.
"Energy on the bench is essential for the team to play well on the field. Constant support and cheering from teammates on the sideline is something that Saugus lacked, which really gave us the edge on the field," Poulsen said. "Every win is a team win – even if some players don't get a chance to play on the field, those who do would not be successful if were not for the help and support of the bench."
During the game, the girls put everything they had been working on throughout the season into action.
"This whole year we've been working on shot placement and through balls, and we really did well with both of those things," LaPierre said.
"[We did a great job] passing, shooting and communicating on and off the field," Mabe said. "We played one of our best games."

"
I think that if we go into the game with the same intensity we had against Saugus, we will be prepared. Just seeing how badly everyone on the team wants to win, I think we are ready for any team.
— Brooke LaPierre
The team felt that they played a great game.
"We played amazing and played our butts off. None of us left the field wishing we did more," Mabe said.
"We were so excited when we won, but we had to stay composed, knowing it was a tough loss for Saugus," Poulsen said. "After we shook hands with the other team and the refs, we ran across the field to parents and had a huge group hug. Everyone was smiling and cheering, and some players even cried of happiness."
The Wayland girls will face the number eight seed at Gloucester on Tuesday night.
"I think we have a very good chance going forward. Gloucester tied Saugus, then lost against them, so we definitely have a chance," Mabe said.
"I think that if we go into the game with the same intensity we had against Saugus, we will be prepared," LaPierre said. "Just seeing how badly everyone on the team wants to win, I think we are ready for any team."
Leave a Comment
Donate to Wayland Student Press
Your donation will support the student journalists of Wayland High School. Your contribution will allow us to purchase equipment, cover our annual website hosting costs and sponsor admission and traveling costs for the annual JEA journalism convention.