Athlete of the Week: Kyra Patterson
Name: Kyra Patterson
Grade: Senior
Sport: Crew
Achievements:
Patterson placed ninth at the World Indoor Rowing Championships in the lightweight junior event in 2017. She placed second at the Youth Regional Championships in the lightweight 4+ category in 2016 and 2017, qualifying for the Youth National Championship both years. She went on to place sixth at the Youth National Championships in 2017 in the lightweight 4+. In 2016, her lightweight 4+ was excluded from racing due to an unintentional rule infraction, but they posted the fastest time across all heats in qualifications. This past summer, Patterson placed first in the club national championships in the lightweight pair.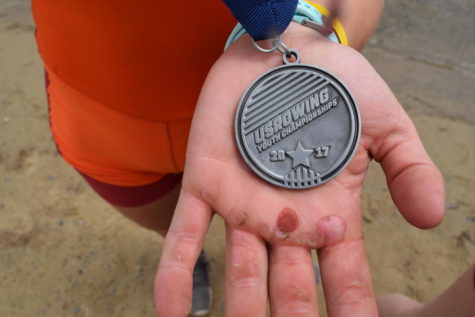 Sports Idol:
Kat Copeland is Patterson's sports idol. Before Patterson started rowing, she was told by many people that she would never be as fast as the taller girls. After seeing Kat Copeland win gold at the London Olympics at just 5 feet 6 inches, Patterson started to believe that her height wouldn't set her back.
Favorite sports memory:
Patterson's favorite sports memory was at the Youth National Championships in 2016 when her coxswain forgot her required supplemental weight. They were told that since they didn't have the weight, they could race with the other teams, but their results would not count. Her boat decided to race anyway, and they had the fastest time across all heats. This is Patterson's favorite memory because her team could have easily given up, but they decided to race for each other instead.
Favorite quote:
"The hard work puts you where the good luck can find you." -Anonymous