Warrior Weekly: Fighting Irish and 'Canes headed for primetime showdown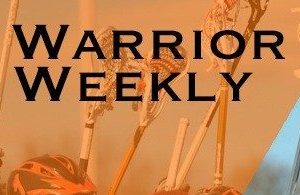 Hang on for a minute...we're trying to find some more stories you might like.
Teams I can See Going to the Super Bowl (in no particular order) – Week 10
AFC: Patriots, Steelers
NFC: Eagles, Rams, Cowboys, Seahawks
Duncan's College Football Top 4 – Week 10
1. Alabama Crimson Tide
They didn't look great on Saturday, but LSU always plays 'Bama tough. All that matters is the Tide stayed unbeaten and in control of their own destiny.
2. Georgia Bulldogs
Georgia game out a little flat against South Carolina, which was perhaps a result of the team being ranked #1 in the first CFB Playoff ranking. The Bulldogs now face a tough task in traveling to Auburn.
3. Notre Dame Fighting Irish
The Fighting Irish continued the trend of top ranked teams looking sluggish this weekend. They have a huge road test this Saturday against Miami. CFB fans around the country rejoiced when it was announced this classic rivalry would resume, and the fact that both teams are prime playoff contenders make this game even better.
4. Oklahoma Sooners
Bedlam was a crazy game, and the Sooners came out on top, 62-52. Baker Mayfield regained control of the Heisman race, and the Sooners are clearly hitting their stride at the right time. Like Georgia and Notre Dame, they have a big game this week, vs. TCU, in a battle of the Big 12's top two teams.
Heisman Watch:
1. Baker Mayfield, QB, Oklahoma – 3,226 yards, 28 TDs, 5 INTs, 71.7%
2. Saquon Barkley, RB, Penn State – 1,368 total yards, 12 TDs, 2 KOR TDs
3. Khalil Tate, QB, Arizona – 930 yards passing, 8 TDs, 5 INTs, 1,087 yard rushing (11.4 per carry), 9 TDs
Game of the Week: (3) Notre Dame vs. (10) Miami – 8:00 PM ET – ABC
Notre Dame. Miami. Finally these two legendary programs meet again, and the circumstances couldn't be better. This is an elimination game. The loser is out of the Playoff hunt, and the winner will had a huge win to their resume that will undoubtedly impress the committee. Miami is coming off a big ACC win over Virginia Tech, and may come out a little flat (Ohio State, anyone?). I want the U to win this one, but I think Notre Dame is just too physical.
Prediction: Notre Dame 34, Miami 24
C.J: 60-42
Seahawks vs. Cardinals
Patriots vs. Broncos
Saints vs. Bills
Packers vs. Bears
Browns vs. Lions
Bengals vs. Titans
Steelers vs. Colts
Jets vs. Buccaneers
Vikings vs. Redskins
Chargers vs. Jaguars
Texans vs. Rams
Cowboys vs. Falcons
Giants vs. 49ers
Dolphins vs. Panthers
Andrew: 56-46
Seahawks vs. Cardinals
Patriots vs. Broncos
Saints vs. Bills
Packers vs. Bears
Browns vs. Lions
Bengals vs. Titans
Steelers vs. Colts
Jets vs. Buccaneers
Vikings vs. Redskins
Chargers vs. Jaguars
Texans vs. Rams
Cowboys vs. Falcons
Giants vs. 49ers
Dolphins vs. Panthers
Charlie: 40-30
Seahawks vs. Cardinals
Patriots vs. Broncos
Saints vs. Bills
Packers vs. Bears
Browns vs. Lions
Bengals vs. Titans
Steelers vs. Colts
Jets vs. Buccaneers
Vikings vs. Redskins
Chargers vs. Jaguars
Texans vs. Rams
Cowboys vs. Falcons
Giants vs. 49ers
Dolphins vs. Panthers