A look into the injury and recovery of Cam Jones
Warning: graphic images.
Sports injuries can vary from a rolled ankle to a broken bone. In Wayland, injuries are common, but are rarely severe. However, this wasn't the case for sophomore Cameron Jones.
It was a frigid Friday night on the Wayland High School turf field. The varsity football team was facing Dracut in its first round of playoff consolation games. The game was going along well until a kickoff return from Dracut turned tragic.
Jones was playing defense, awaiting the Dracut player who had the ball, so he could make a touchdown-stopping tackle. As Jones wrapped his arms around the player, the pile-up that stopped the runner ended horribly. Jones looked down to his arm, and things were not right.
"
Right when it happened, I felt it and I heard it."
— Cam Jones
"Right when it happened, I felt it and I heard it," Jones said. "I looked down and it was all bent and out of whack. I bent down and kind of grabbed it. I panicked a little bit, but I grabbed it and it hurt a lot. I didn't really realize what was happening, I think I went into shock. I didn't really fully understand how bad it was."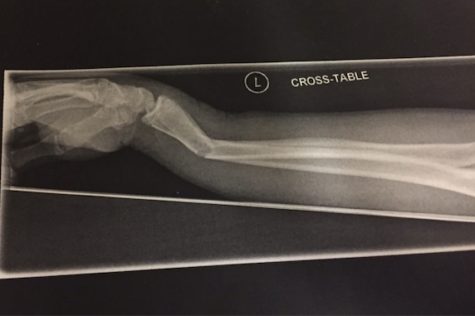 Jones' left radial and ulnar bones were snapped in half, explaining his excruciating amount of pain. Jones spent the ride to the hospital in more pain than he had ever felt. The medical professionals couldn't give Jones any medicine until he arrived at the hospital, leaving him very uncomfortable during the ride.
Once Jones arrived, he was taken into immediate care, yet the process to help him was very stressful.
"They tried to re-align [my arm] there. They knocked me out and tried to get the bones back into place because they were obviously shifted," Jones said. "They didn't know if that would work, so they put a cast on it and waited until the following Monday to see if I did need surgery."
The following Monday, Jones went back to the hospital and discovered his injury was very severe; he needed surgery.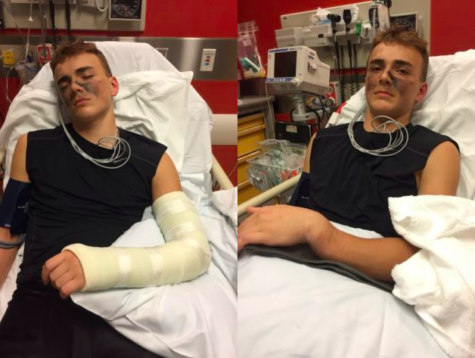 "They cut into both sides of my arm, and put plates and screws into both sides of my arm. After the surgery was the worst part. I hadn't taken any pain medication, so that was the worst pain," Jones said.
The injury didn't only impact Jones. Football Head Coach Scott Parseghian worries about the future impact of Jones' injury.
"Cam had worked his way into a starting role, which is great as a sophomore. He finally earned the right to be the starting wide receiver," Parseghian said. "[It's] really sad for Cam because he worked so hard. He got there about halfway through the year and earned the starting position, and now it's gone."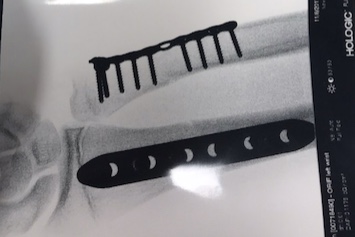 Jones became a core member of Wayland's offense and losing him impacted the entire team. Along with the physical loss of an important player, the mentality of seeing a teammate go down was hard on the whole team. Jones' brother, junior Brooks Jones, is a lineman on the football team. Although Brooks is almost always playing on the field, he happened to be on the sidelines when his brother got hurt. He witnessed his brother's injury.
"It was scary. I felt bad for him, but at the same time I had a game to play and I tried hard not to think about it," Brooks said. "I didn't think it would be that bad. I just thought he got hurt a little and it wasn't that serious, but when I saw the ambulance come to the field I knew it was worse than I had thought."
Brooks went on to say the team felt bad, but knew his brother was tough enough and would get through it.
The recovery process can be a difficult part of an injury. Jones' recovery time is 6-8 weeks with physical therapy. Jones also wrestles in the winter and predicts that this recovery time will effect his new season.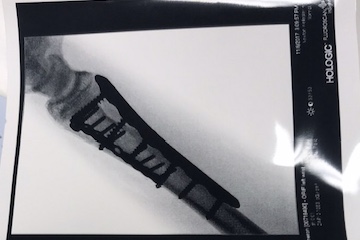 Jones admits that the injury has impacted his confidence in playing contact sports, but hopes to recover to his previous abilities.
"I think I'll definitely be more timid to tackle and be physical again, but I hope not," Jones said.
Jones will work hard to get back to his normal self, and he has many people helping him to get back.
"The next morning, I stopped by his house with Chick-fil-a because I heard it was his favorite," Parseghian said. "We talked about his schedule, and we're going to get him back for wrestling. You have to do that when any player gets an injury like that, show that you care about him."
Parseghian hopes to get Jones back for the winter wrestling season because of his important contributions to the team.
Along with Parseghian, Brooks wants to help his brother out too.
"I'm going to help him with anything he needs. I'll push him to work harder, you know in [physical therapy]," Brooks said.
The week that Jones was injured was hectic. He spent the night in the hospital and underwent a serious surgery. Jones is currently beginning his recovery process from the surgery and hopes to return as soon as he can to wrestle on the WHS team this winter.
Leave a Comment
About the Contributor
Abby Mitty, Staff Reporter
Abby Mitty is a staff reporter for WSPN who specializes in the sports section. This is her second year on the WSPN staff. Abby enjoys playing many sports,...