Kevin Delaney: There's absolutely a connection between using your hands and using your mind
Hang on for a minute...we're trying to find some more stories you might like.
For most people, needing new furniture means going on a trip to either IKEA or Jordan's furniture, but not for Wayland history teacher Kevin Delaney. Delaney has been woodworking for 25 years. He started building when he was a kid, and has been building furniture since his twenties.
"In those days it was much more permissive than it is today," Delaney said. "Parents [now] would be like 'Oh my God, my kid's using a power tool? They might cut their fingers off.' [Back then it was like] 'alright, if he cuts his fingers off, oh well, it's a learning experience.'"
Delaney is self-taught, except for a few furniture making classes he took at North Bennet Street School in Boston. Through lots of books–and trial and error–Delaney finally found his own technique of furniture making.
Delaney's technique includes stack drying the wood, milling it, planing and jointing the wood, flattening it, cutting it, gluing it back together, finishing, putting on polyurethane, and sometimes painting the wood.
Delaney does this long process by himself, he even cuts down his own trees and sends them to a mill in Holliston. Delaney prefers to use black oak for his products.
As a child, Delaney would make hockey goals, go carts, tree houses and much more with his family, but he only started to do carpentry as he got out of college. For the first two years out of college, Delaney was a carpenter.
"I started collecting tools, just acquiring tools. I started playing around with stuff and then started making furniture. It's a lot of fun, it's a nice getaway."
There was a point in Delaney's life when he considered carpentry as a career. It was after his two years of teaching at Dover-Sherborn. He came very close to becoming a cabinet maker after he was let go at DS–until a very close teacher friend of his convinced him otherwise.
"[She] gave me a push to stay in education, which was the right move," Delaney said. "I owe her a debt of gratitude from doing that, and keeping [woodworking] as a hobby as opposed to a career."
Although Delaney chose not to use his skill of furniture-making as a career, he still enjoys the hobby during his free time.
"I love to do it, I have a shop in a barn at my parents' place, so I spend a lot of time there, and that's what I'll do when I retire in a little while. That'll be my old man job."
One of Delaney's favorite memories from furniture making was when he first learned how to "dovetail." Dovetailing is a fundamental carpentry skill, and it creates the strongest joint in drawer construction. It is a tricky technique, but after lots of practice Delaney can now dovetail very quickly.
"Just like anything else, you learn a move and then it becomes your muscle memory," Delaney said. "Your body remembers how to do it, even though it took your body forever to figure it out for the first time."
Delaney has never thought of teaching woodworking as a career, but he does help Jay Moody, teacher of the elective Innovation Realization, in the Makerspace. Delaney also teaches a woodworking workshop during Winter Week. He teaches students how to make bird houses which he displays outside of the school.
Delaney would like to see an elective specifically for woodworking at WHS.
"There's absolutely a connection between using your hands and using your mind, I learned really well from using both at the same time, and seeing things in three dimensions," Delaney said. "[Woodworking is] pretty useful too. If you own a house or an apartment, and you want to make something, knowing how to use a drill and to not screw something up is a good survival and life skill. We don't teach [skills like] that as much anymore, but it's starting to come back."

About the Writer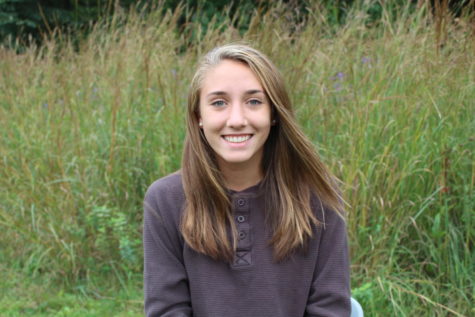 Eden Vanslette, Multimedia Editor
Eden Vanslette, class of 2019, is a co-multimedia editor for WSPN. This is her third year on the WSPN staff. In the past, she has been a Arts and Entertainment for the publication. Eden is captain on the Wayland Girls Varsity soccer team, and director of the Window Dance Ensemble at WHS. Outside of school she enjoys spending time with family and friends, cooking and watching movies.
Contact: [email protected]