Emma Goes Clubbing: K-pop
Every year, one of the biggest events of Winter Week is the K-pop performance, and this year's performance was no exception. But what actually goes into a performance like this? What kind of club is it? These were the questions I had in my mind, so I decided to finally go and visit them formally. Junior Clarissa Briasco-Stewart, the club's main advisor, was kind enough to let me visit just one day before their big debut.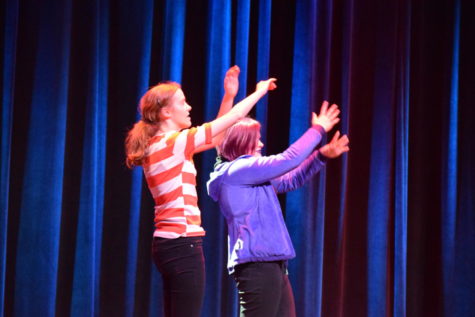 The first thing that registered when I entered the club was the sheer darkness of it all. They were in the theater getting ready for their performance and hadn't quite mastered the lights yet. My eyes slowly adjusted enough to make out the shape the of a familiar figure. Half my mouth curled into a self-satisfied smile as I quipped, "Hello darkness, my old friend." The other person gave a half laugh, agreeing that the place was dark. The lights were slowly coming on, but it was still dark. I found the confidence to shout out into the darkness–it's surprisingly easy to be brave in the dark–and introduced myself. Suddenly voices were everywhere and I was getting a true sense of who was in the room. At least five people, all familiar voices even if I couldn't name them yet.
There was a girl sitting on the stage, and a few people, who had been backstage, joined her. By the time I slid into a seat, they had started yelling at her. An argument I presumed had been going on since before I got there. "Put on your shoe, Lily," I heard someone yell, and when she doesn't, it's repeated by a few more people. Somehow, my friend junior Abby Calverley appeared next to me and filled me in. I struggled to take a photo of the few people on stage. Two girls were dancing with each other. Another member had his earbuds in and was dancing to a song he was presumably going to perform. He was pretty good.
I have, admittedly, seen K-pop club meetings in action before. They'd always been carefree and fun, but with the upcoming performance, you think they'd be antsier… nope! Junior Leon Rader stood next to me and tried to help me figure out why my camera couldn't take a good photo in the dark. Abby chatted with me casually. Clarissa was up in the sound box trying to get the lights working so that they could actually practice for tomorrow's performance. Her voice gloriously surrounded us as she whined into the mic that she couldn't get the lights to work. "Where are you?" A member asked her, and I told them she's God. Eventually, Leon handed me my camera back and joined Lily on stage, peacefully getting ready for the performance. I sat silently alone for the first time in 15 minutes of the show, watching. Sophomore Lily Brooks was advising Leon on a song. Another member was still dancing alone. Two girls had returned from getting water and began practicing. 
It was a nice moment as I was sitting quietly watching this all unfold. I'm not a dancer, but the club's atmosphere is something I definitely look for: a group of friends enjoying something they love at their own pace. Eventually, they actually start to move into a run through. That is when I decide to head out. I would see them perform tomorrow; it's the before I cared about. And I can say that I loved it. If you love to dance, but still want to have fun with it, I recommend this club, because it's truly something special.
Catch you next time,
Emma
P.S: Wanna learn more about K-pop? Visit my website to learn all about when and where they meet!
Opinion articles written by staff members represent their personal views. The opinions expressed do not necessarily represent WSPN as a publication.
About the Writer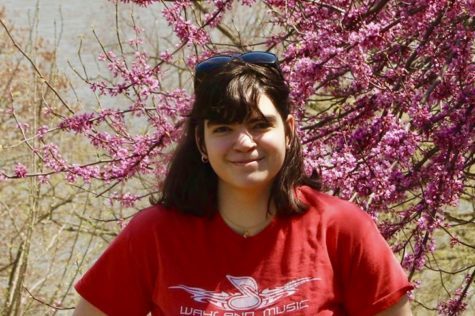 Emma Marton, Guest Writer
Emma Marton, class of 2019, is a guest blog writer for WSPN. This is her second year guest writing. In the past she wrote a blog called Emma Goes Clubbing...