Aly Raisman: I'm very passionate about creating change
While Olympic gymnast and Needham resident Aly Raisman rose to star status for her difficult gymnastics routines and Olympic medals, these days, she has been making headlines for different reasons. She published her memoir recently and has since been routinely speaking out about sexual abuse, particularly regarding the plethora of accusations against former USA Gymnastics national team doctor Larry Nassar. WSPN recently spoke with Raisman about her and other gymnasts' efforts to prevent sexual abuse in the organization and beyond.
"I ask that students are supportive of one another," Raisman said. "Even if you can't relate to any kind of abuse, it is still very important that you show support. Victim shaming must stop."
"
Even if you can't relate to any kind of abuse, it is still very important that you show support. Victim shaming must stop."
— Aly Raisman
USA Gymnastics has experienced immense success over the past decade, but the pressure-cooker environment at training camps has been criticized by some as a way for abusers to hide.
"I would recommend that schools talk about abuse and create a comfortable environment for students to feel safe coming forward. I hope any student out there reading this knows that if anyone is hurting you or making you feel uncomfortable, have the courage to come forward because you deserve to feel safe and feel heard," Raisman said.
USA Gymnastics, one of the nation's most prominent Olympic organizations, is currently embroiled in one of the worst sexual abuse cases in sports history. Dr. Larry Nassar, former USA Gymnastics national team doctor, has pled guilty to child sexual abuse and child pornography charges.
More than 140 women have accused Nassar of sexual abuse, including Olympic champions Simone Biles, Aly Raisman, Gabby Douglas, Jordyn Wieber, McKayla Maroney and national team member Maggie Nichols. Nichols is Athlete A, or the first athlete to report Nassar's abuse to USA Gymnastics, doing so in the summer of 2015. While these prominent gymnasts are the most publicized victims, Nassar has been implicated in the abuse of many other victims, particularly from his position as a doctor at Michigan State University.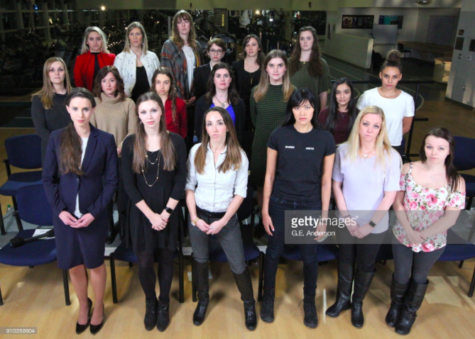 Over one hundred victims spoke at Nassar's sentencing hearing in Lansing, Michigan last month. Nassar has already been sentenced to 60 years in prison after being convicted of child pornography charges. He pled guilty to the sexual assault charges on Nov. 22, 2017.
In 2016, IndyStar published an investigative piece detailing how USA Gymnastics repeatedly failed to report sexual abuse allegations against coaches to the FBI, routinely dismissing allegations if they didn't come directly from the victim or the victim's parent. After the IndyStar published its piece, Rachel Denhollander reached out to the publication detailing the abuse she suffered from Nassar. At the time, Nassar was working as a doctor at Michigan State University. Denhollander's accusation was soon followed by dozens others.
After Nichols reported her abuse, five weeks passed before USAG informed the FBI. Nassar resigned from his position as national team doctor quietly and accepted a job at Michigan State University, where he obtained his medical degree. He continued to work as a doctor at MSU until the fall of 2016.
Raisman believes that the organization needs new leadership. Former USAG President and CEO Steve Penny resigned after the allegations came out, and the board of directors also resigned after pressure to do so from the US Olympic Committee.
Raisman said that she is not interested in becoming an athlete representative for USA Gymnastics.
According to usagym.org, the Athletes' Council "shares the concerns of athletes with USA Gymnastics [and] communicates information from USA Gymnastics directly to elite athletes." Council members are elected by their peers and must have competed in World Championships, Pan American Games or the Olympic Games within the past 10 years or have been a member of the senior national team in the past two years.
While Raisman fits the bill, she prefers to stay outside of USA Gymnastics.
"I can create more change on the outside of [USA Gymnastics]. I don't think working as an athlete rep will create change because those people are still there… I have a lot of people who already have been extremely supportive," Raisman said. "A lot of powerful people are reaching out saying that they want to help me and I've received a tremendous amount of support…. I'm very passionate about creating change; it's just trying to now see who to go to that will help me make the biggest change."
"
I'm very passionate about creating change; it's just trying to now see who to go to that will help me make the biggest change."
— Aly Raisman
Since the interview, Raisman has launched a campaign called Flip The Switch, which calls for adults involved in youth sports to complete a training course on child sexual abuse prevention offered by Darkness to Light's Stewards of Children. She has also sued the US Olympic Committee and USA Gymnastics, alleging that the committee at its highest levels was aware that Nassar sexually abused gymnasts.
In Raisman's victim statement, she stated that Nassar had not taken away her love for gymnastics, and said it was stronger than the evil inside Nassar. She hopes everyone can find something they love as much as she loves gymnastics.
"I would say to find something that you love to do and stick with it. Everyone has a passion. Remember that life will not always be easy but every struggle can make you stronger," Raisman said. "And remember people will always remember you for the kind of person you are rather than the place you are on the podium."
Leave a Comment
Donate to Wayland Student Press
Your donation will support the student journalists of Wayland High School. Your contribution will allow us to purchase equipment, cover our annual website hosting costs and sponsor admission and traveling costs for the annual JEA journalism convention.
About the Contributor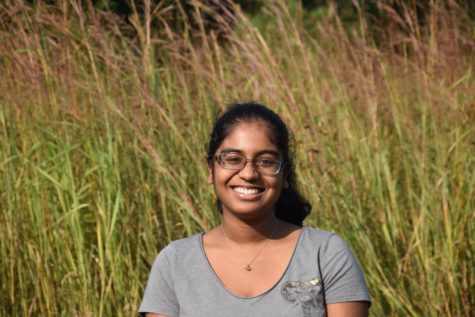 Janani Gandhi, Editor-in-Chief
Janani Gandhi is a co-editor-in-chief of WSPN. She is a senior and this is her third year on the WSPN staff. She is a member of WHS' crew and cross country...