Students to walk out on March 14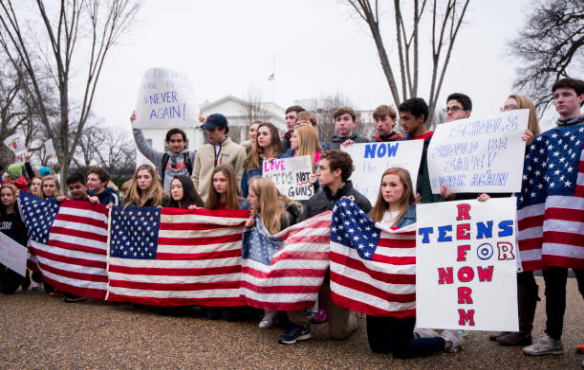 At 10 a.m. on March 14, Wayland High School students and staff have the option to join the nationwide walkout. This walkout will last 17 minutes in order to honor the 17 students that lost their lives during the Parkland, FL school shooting that took place last month on Feb. 14. Over hundreds of local schools have also decided to participate. Sophomores Jess Reilly and Hailey Robinson organized the walkout for WHS.
Reilly said that the walkout is also focused on advocating for stricter gun laws in the nation as a solution for preventing mass shootings in the future.
"I want to be a part of the movement that will shape the world into a safer place for students," Reilly said. "I think that with a movement so widespread, those in power will have no choice but to answer to our demands for stricter gun control. I really believe that legislators and government officials will make a change following this movement."
To advertise the event, Reilly and Robinson created a public Facebook group. As of March 13, 168 students have virtually responded "Going" to the Facebook event, though Reilly and Robinson believe the actual number will be about 200. They noted that it is hard to say if all students who are signed up will participate or not.
"I expect that the majority of students will join us. We all value each others' lives, and see that change is necessary to protect them," Reilly said.
History teacher David Schmirer has been helping Robinson and Reilly with organizing and preparing for this walkout. According to Schmirer, after seeing walkouts being organized in surrounding high schools, he wanted to help organize one at WHS. He noted that his role is mainly to provide oversight and act as an adult liaison.
"I didn't know if anything had been centrally organized here at the high school. I don't view myself as a leader of it in any way; it's really a student-based initiative, and I'm just trying to give them the help to get going,' Schmirer said.
Both student leaders had strong opinions on this issue, which is why they decided to lead the walkout for WHS.
"As a school, it would be a good thing to have everyone unified in a cause that we all believe in, and take a stand when the government isn't," Robinson said. "I think that it's really important to stand up for the protection of students like ourselves."
Schmirer noted that when students perform acts of civil disobedience such as the walkout, they can look to historical precedent.

"The girls used the word [disruption] yesterday, which I thought was the perfect word to describe what that notion of the walkout is, and part of that is the willingness to accept the consequences of your actions," Schmirer said. "People like Martin Luther King Jr. and Gandhi were people who were willing to accept pretty harsh consequences for their actions."
According to Reilly and Robinson, a concern for the students deciding to participate is how their teachers will react to the situation. While the administration never guaranteed that the people choosing to participate wouldn't get in trouble, many teachers assured students that if anybody were to get in trouble, the consequences would not be severe.
In an email to WHS parents, Principal Allyson Mizoguchi assured that no student would be punished for participating in the walkout so long as they follow certain guidelines.
"We expect respectful discourse and behavior from our students, and for them to return to class promptly when the 17 minutes have concluded," Mizoguchi wrote in the email. "So long as they adhere to these expectations, students will not receive school discipline for participating in the Walkout."
Mizoguchi also noted that Wayland Police will be on campus for the duration of the walkout to ensure campus safety.
"We want to ensure that our students are safe – both physically and emotionally – as they choose to participate or not to participate," Mizoguchi said.
According to Reilly, there are two main purposes of this walkout: to show support Florida victims and to try to make a change in gun control.
"There have been some questions in class, just kind of students who were concerned about whether this a political message or this is about showing support for what happened in Florida," Schmirer said. "I mean, I think some students are a little worried that the school is trying to push a political message. [The walkout is] about doing what needs to be done to keep kids safe. It's hard to avoid at least a little bit of a political message, but from what I've seen, kids have been very supportive of it."
Although some students have expressed concerns about the meaning of the walkout, the overall response has been encouraging and favorable. According to Schmirer, students supporting this walkout have had an overall good attitude about it.
In a more general message to parents and students of all Wayland schools, WPS Superintendent Arthur Unobskey outlined the different discussions and events that will be taking place on March 14. He included provisions in the School Committee Manual in directing how teachers should supervise students during the walkout.
"[The handbook] states that staff should express 'concern for and attention to their own and the school system's legal responsibility for the safety and welfare of students, including the need to ensure that students are under supervision at all times,'" Unobskey said.
To that end, Unobskey wrote, students will be supervised by teachers as they walk out. Students who choose not to participate in the walkout will be "closely monitored" by teachers in classrooms.
Yet generally, both Unobskey and Mizoguchi expressed optimism at the students' drive to organize such an event.
"We are very proud of our students as they engage in these important social issues and explore their role as citizens in our democratic society," Mizoguchi wrote. "Against the backdrop of these complex and stormy times, our students have shown poise, curiosity, and passion; they are an inspirational testament to our mission and our work."
Editor's Note: Hailey Robinson is a member of WSPN.