Math team qualifies for New England Championship Meet for first time since 2014
The WHS math team will participate in the New England Math Meet Championship on Friday, April 27 for the first time since 2014. Participants are determined by their final rankings in various state tournaments across the region, of which WHS placed fifth out of eight "Medium" schools in Massachusetts.
"I actually didn't think, based on our fifth position [at states], that we were going to make [New England's], but even the sixth school, St. John's, made it," math team coach Hannah Marton said. "So I was really surprised."
Junior captain Eileen Chau corroborates Marton's surprise.
"We weren't really expecting [to go] to New England's," Chau said.
In order to participate in New England's, a school must first qualify for and compete in its respective state meet. Schools are evaluated for states based on their performances throughout the year at various meets within their math league. Organizers of the state then meet and select the qualified teams. Schools are categorized by their population sizes into "Small," "Medium" and "Large" classifications.
"[Qualifying is] based on score, and the organizers of the state meets look at the league's roster," Marton said. "I don't know exactly how they organize this. There's a main organizer who's been doing this for absolutely forever, and [maybe] he decides who comes, or a committee looks at the scores."
While Marton believes that the math team has never failed to qualify for states, it has been nearly half a decade since the team has competed at New England's.
"I don't remember any year where we weren't invited at least to states," Marton said. "We always make states."
"I heard [the last time we went to New England's] was four years [ago], but I wasn't there," Chau said.
Unlike other competitive scholastic activities such as music, which features competitions ranging from local to national levels, New England Championship is the most prestigious event that math teams in the Northeast can compete in.
"There is nowhere [else after New England's]," Marton said. "Even the first [place team] doesn't move on anywhere."
Marton is unsure how the team will perform at New England's.
"I hope we will do okay," Marton said. "There was a year where we were third in the state meet and second in New England's. That was early. I think it must have been 2005."
The team hopes to perform well at New England's and has begun rigorously preparing for the competition.
"You always hope [for a repeat of 2005], but I don't know," Marton said. "There's a lot of excitement in the team. We doubled the weekly meetings. We're meeting Tuesdays and Thursdays."
Chau shares Marton's cautious optimism.
"I hope we do well," Chau said. "[We need] more practice."
In order to prepare, the team is running through more "team rounds," where the entire competing team gets together and solves six problems.
"[We're] definitely doing more team rounds because at the team round [at states], we got [a] zero. That was disappointing," Chau said. "I think [it was] because everyone was assigned to do one problem, but since there's a time limit, it was kind of hard and everyone ended up doing half of their problem."
Although the team is doing its best to prepare, Marton acknowledges that it is not possible to entirely predict what types of events math meet organizers will use.
"Sometimes it's tough because we do the best to practice based on what we saw at previous meets, and then they throw an unexpected topic at us," Marton said. "For example, at the state meets, one of the questions, a question in the Algebra II round, was a question about polar coordinates. Polar coordinates were never part of the Algebra II curriculum here [at WHS], and it isn't [usually] a part of the Algebra II round."
According to Marton, there are several factors that determine whether or not a team succeeds at a math meet.
"Sometimes it's just the kinds of questions they ask," Marton said. "There's certainly the element of luck, there's the element of how prepared the team is and there's the element of how tired [the team] is. These all play a role."
About the Writer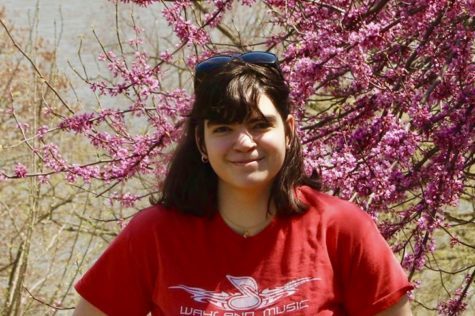 Emma Marton, Guest Writer
Emma Marton, class of 2019, is a guest blog writer for WSPN. This is her second year guest writing. In the past she wrote a blog called Emma Goes Clubbing...