Seniors present independent senior projects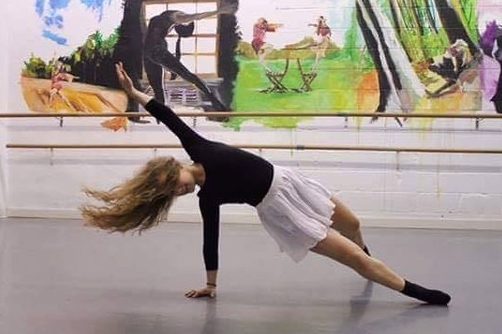 Seniors presented independent senior projects in the WHS Commons on Tuesday, May 22. Seniors Audrey Camacho, Shaelee Comettant, Lindsay Jacobs, Maggie Fiske, Owen Donovan, Michael Jones, Joe Lyons, Will Danforth and Natalie Roussina all took part in the challenge of producing their own senior project.
Camacho chose to create a program at WMS that incorporated the peer mentor program that students have here at the high school into the middle school. She took inspiration from her personal experience in the Wayland Public Schools system.
"I was a new student here at Wayland in fifth grade, and I just want everyone to be able to feel that form of welcoming, no matter what age [you are] and no matter what school you are coming from," Camacho said.
Comettant decided to create a hand-illustrated Peruvian cookbook. She already had experience in the field of her project, so the idea came naturally.
"I have always enjoyed baking and cooking and I'm an artist, so I really thought that combining both of those aspects of my life would be really cool," Comettant said.
Because students produce the projects, each participant creates their own schedule for submitting their final outcome. According to Comettant, this can pose some challenges with scheduling because there are not teachers outlining the process for them.
"It's really hard to plan it out and understand that this is the amount of work I have to do every single week," Comettant said. "I need to have a final product done [on] time while still having time to do other things."
Fiske chose to incorporate her passion for dance into a project that gives back to the community. She decided to organize a dance performance and give the proceeds back to charity.
"I was just figuring out something to do that would really challenge me," Fiske said.
According to Fiske, she wanted to do a project that would directly benefit the community, so she decided to find a way to raise funds that she could donate.
"I found this really cool charity called Soul Dancers that provides an after-school program for underprivileged children," Fiske said. "They give [people] a meal, a full dance lesson and they employ impoverished women, so it's really cool."