Sophomore Kyle Chen wins 2018 Freedom Prize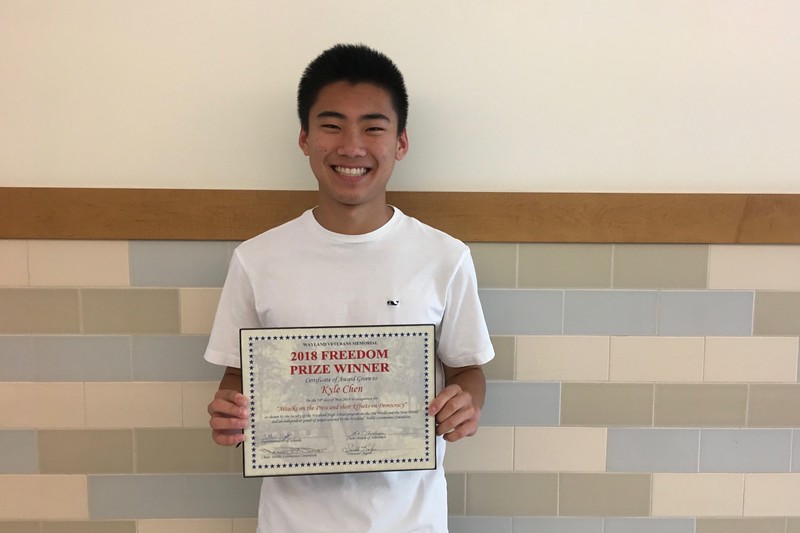 Sophomore Kyle Chen is the winner of the 13th annual Freedom Prize Paper contest. While most students were enjoying a day off from school on Memorial Day this past Monday, Chen was being honored for his submission to the essay contest, titled "Attacks on Press and their Effects on Democracy."
In spring, every WHS sophomore taking the "Old World and New World" history course submits their own essay for the Freedom Prize contest. Teachers then nominate what they deem to be the best paper written in each of their classes and then send all of them to the Veterans Memorial.
A panel representing the Wayland Veterans Memorial reads all of the nominations and selects the best paper, as it pertains to freedom. After a deliberation process, the memorial honors the writer of the best submission with a cash prize of $500 in Lakeview Cemetery on Memorial Day.
Chen, the honoree and recipient of the award, started drafting his paper in early March.
"I wrote my paper on the recent attacks on the press and their harmful effects on our democracy," Chen said. "I felt it was a very relevant issue. [I] also felt that as an aspiring student journalist, I had an obligation to talk about this; [to] make it known and [to] get people to think about it."
Before Chen's paper was presented to the panel, Chen first submitted his paper to his history teacher Patricia Halpin. Halpin nominated Chen's paper as the best in his class in late March, thus beginning a process of edits and revisions before the final product was sent to the memorial.
"Dr. Halpin was really helpful," Chen said. "After she nominated me, we went through it together, and we changed a bunch of stuff. She was always there- giving me guidance, offering suggestions and all other good advice. I don't think I could've won without the help of [Halpin]. She was really helpful and helped shape the piece that I was submitting."
Several weeks after Chen's piece had been submitted, his mother received a phone call notifying her of Chen's achievement. Chen was surprised at the result.
"When they called my mom, I was actually pretty surprised," Chen said. "I thought it was Michael Chen who won because my paper was not fantastic. I feel like even after it had been finished, there was still stuff I could've said and stuff I could've changed. I wasn't expecting much, I wasn't expecting to win."
Despite Chen's disbelief, it was his paper which had been selected, and it is Chen who received the $500 prize.
"I don't really know what I'm going to do with [the winnings], I'll probably just end up saving it," Chen said. "If I need it, I guess I'll use it for emergency purposes. I don't think I'm going to be spending it on anything in the near future."
After the process of writing, editing and submitting his essay, Chen has found value in his work.
"I think that writing something [can] have a profound effect on my community [and] that people will actually read and think about has been an experience that has helped me grow and find my voice," Chen said.
Editor's Note:  A previous version of this article stated that the cemetery's name was "Lakewood Cemetery." It has been updated to reflect the true name, "Lakeview Cemetery."
About the Contributor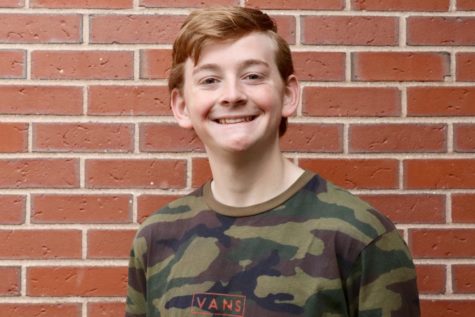 Charlie Moore, Editor-In-Chief





Charlie Moore, class of 2020, is a fourth-year journalism student and fourth-year reporter for WSPN. He is a Co-Editor-in-Cheif for WSPN. In...