Emma Goes Clubbing: World Culture Club
There are several advantages of having a parent in the school. One of them is being able to get permission slips signed on the day of an event. I had just found out I was able to go to the World Culture Club's event after my mom, Ms. Marton, signed my permission slip. On the trip, we were going to go try some Central American cuisine at 'The Pupusa Loca" in Framingham.
All of the people attending the event could drive themselves, though it was an option to have a teacher drive you if you didn't have a license or car. I entered the small restaurant a few minutes after the teachers but a few minutes before the other students. I slid into a booth, and Señora Bryant handed me a menu. I hadn't eaten lunch that day, so I was especially eager to try something. The pupusas, which we could see being prepared by looking over the counter, were light-golden. They were circular, and the diameter must've been two inches larger than a CD. The chef was preparing some of the fillings next to the pupusas, and the pupusas that were cooking leaked a bit of the filling onto the grill. Carter had just entered the restaurant, and he hadn't had lunch either. His eyes were bigger than his stomach. He ordered three pupusas. I ordered two because there are two flavors I am extremely excited to try.
Señora Bryant says something to me in rapid Spanish, and I am slow to respond. Carter turns to her as well and says something in Spanish. I'm pretty sure that everybody here takes Spanish, but I have attended other WCC events where a member took French, Latin, or Mandarin instead, so the teacher will talk to you in English if that's the case. I'm actually surprised that Yorgos, who takes both Latin and French and usually attends the events, isn't here today.
As we wait for our food, I look up. There's a TV playing with no sound. It's some kind of game show with competitions in the water. I don't really understand what the purpose of the show is. They compete in these silly competitions, but I don't know why or what they win. Carter and I discuss the show as well as the English paper that's due Friday. Our food is delivered to us, first some chips and guacamole, then the pupusas. They are truly delicious, so I do recommend trying the place since it's close to Wayland and very reasonably priced – I had two pupusas for less than five dollars. Carter struggles to finish his and passes it off by explaining to Señora Bryant and Señora Haghdoust that they looked smaller when they were being cooked.
It's a short meeting, just enough to get together and eat. The club doesn't meet weekly; rather, it holds events like these once a month or once every two months. Some events were more centered around watching a movie, one I can remember being from China. We had gotten some takeout that day too, though I don't remember from where. We've also gone to a crepe place and gotten ice cream. Every year, some students learn carols in Spanish and French, then go and sing at a retirement home nearby. We also gather gifts and wrap them for a daycare nearby once a year around the winter holidays. That's probably my favorite event. There's always sweets, music (in several different languages) and friends!
I definitely recommend this club. It is a very low commitment, as you only attend the events you want to or have time for. It's also a great way to experience some new culture and new food. And everybody there is, as always, just amazing.
Catch you next time,
Emma
PS: There is not a page for this club on my website, but you can learn more about other clubs using the link posted below:
https://emmailonamarton.wixsite.com/whsclubs
Opinion articles written by staff members represent their personal views. The opinions expressed do not necessarily represent WSPN as a publication.
About the Writer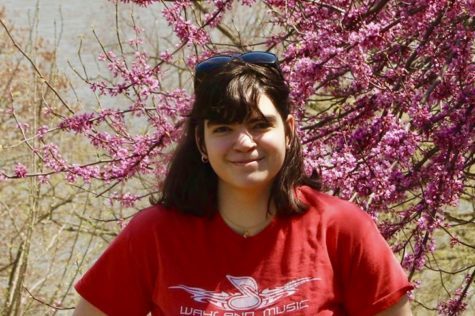 Emma Marton, Guest Writer
Emma Marton, class of 2019, is a guest blog writer for WSPN. This is her second year guest writing. In the past she wrote a blog called Emma Goes Clubbing...