Senior Ines Alpendre takes a different approach to senior year
Senior year can be a time to embrace the end of one's high school career before a series of new beginnings start after graduation. Exchange student Ines Alpendre from Lisbon, Portugal will be taking a different approach than many to her senior year. Alpendre started a new beginning at WHS for her senior year of high school.
Through a program called the American Field Service (AFS), she will be completing her last year of high school at WHS. Alpendre stays with a fellow senior, Olivia Harvey, who did an exchange year last year, as a junior. However, Harvey did not stay with Alpendre's family on her exchange trip.
"[Harvey] also did an exchange year, but [she stayed] in Barcelona," Alpendre said.
Starting at a new school can be daunting to anyone. Alpendre uses her unique background as a conversation starter when meeting new people.
"Some people thought I was just a transfer student, and they [were] curious to know where I'm from," Alpendre said. "[They] showed me around."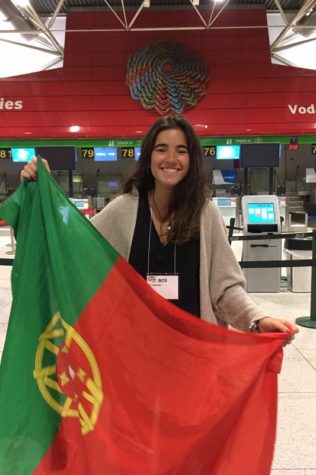 According to Alpendre, students' curiosity is much appreciated.
"I like that everyone is very kind and is curious to know more about my country [and] what exactly I am doing here," Alpendre said.
Any new student can be subject to difficulties in adjusting to a new environment. Because Alpendre is a native Portuguese speaker in a foreign country and at an English speaking school, she enlists the help of other students to eliminate any language barriers.
"Everything is in English, and now I'm more used to it." Alpendre said. "At first, I was like 'Oh my god.' It was kind of hard at first to adapt, [but] some people help me if I say something incorrectly."
After graduating from WHS this coming spring, Alpendre will be off onto her next adventure: college. Although Alpendre is spending her senior year in America, she does not plan on continuing her studies in the United States.
"I'm a senior, so I am graduating [from WHS]. Hopefully I can go to college next year in Portugal," Alpendre said.