14 Last-Minute Halloween Costume Ideas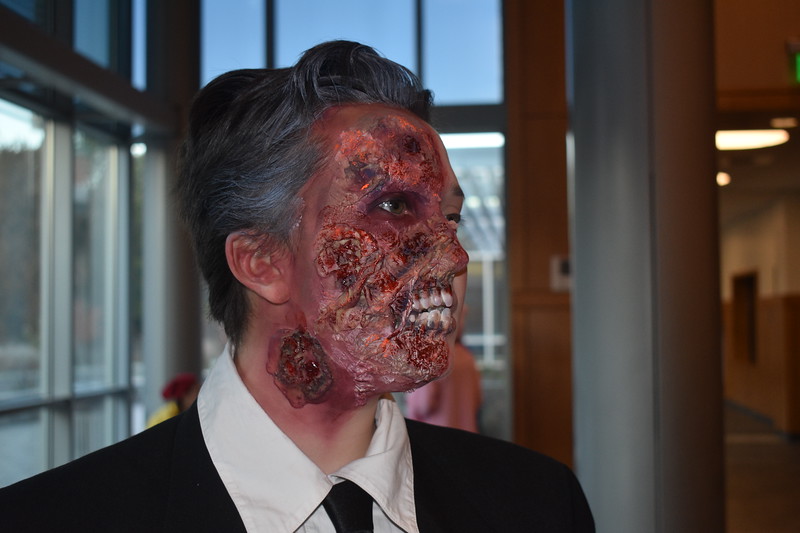 Halloween is creeping closer and closer, and it's not long before the rush of putting together a creative costume will take over. In case you don't have a costume idea (or you're on a tight budget), here are some last-minute ideas that won't break the bank.
1. The Classic Zombie
It's a little cliche, but you really can't go wrong with your standard zombie costume. Plus, you most likely have these pieces lying around your house.
What you'll need:
Tattered/old/stained clothes

Dark eyeshadow

Light/greenish face paint

Red lipstick/fake blood

No coffee
2. Holy Cow
Who doesn't love a play on words?
What you'll need:
A white shirt/dress (that you don't mind painting)

Black fabric paint

A halo
3. Three-Hole Punch Jim
This is an iconic bit from The Office that's easy for any fan to pull off.
What you'll need:
A white button-down

A brown tie

Office-appropriate pants

Black construction paper cut into three large circles (and tape)
4. Sports Star
This option makes sense for people who have old uniforms lying around, or for anyone who just really like sports.
What you'll need:
A jersey (reuse your old uniform!)

Black grease paint for under eyes (optional)

Sports equipment (also optional)
5. Mickey/Minnie Mouse
If you want something simple and easily recognizable, this is your costume.
What you'll need:
White gloves

A pink dress (Minnie)

Red shorts (Mickey)

Black shirt (Mickey)

Yellow shoes (optional)

Ears
6. Your Favorite Teacher
It's the best form of flattery!
The items you would need will vary depending on the teacher, but some standard items that would work for this include…
A button down/polo

Jeans

A tie

A skirt

A blouse

A sweater/sweatshirt
7. Fruit/Vegetable (e.g. Strawberry)
After all, it is the season of the harvest.
What you'll need:
A red shirt

A headband

Green construction paper cut into a crown

Black/yellow construction paper cut into seeds
8. Scarecrow
This is perfect for fall, and it has 'scare' right in the name!
What you'll need:
Overalls/jeans

A flannel shirt

A straw hat

Black eyeliner (to draw stitches)

Orange/red lipstick (to draw nose)
9. Cowboy/Cowgirl
Alternatively, you can adapt this costume to be Woody or Jessie from Toy Story.
What you'll need:
Cowboy hat

Bandana

Any denim items you have lying around

Vest
10. Ancient Roman or Greek Deity
Any Latin scholar will be able to help you assemble your toga. We did it for Saturnalia and Latin Banquets throughout middle school!
What you'll need:
A bedsheet

Safety pins

A belt

Crown (optional)
11. Sims Character
If you want to be really convincing, speak in gibberish all night.
What you'll need:
Any outfit you want

A headband

A green piece of construction paper cut into a rhombus (you may want to make a couple and layer them)
12. Rosie the Riveter
We can do it!
What you'll need:
A blue collared shirt

A red bandana
13. Brawny Man
Your paper towels are the best paper towels.
What you'll need:
A red-and-black flannel

Blue jeans

A paper towel roll
14. Apple Pie
"The looks of disappointment on the candy-giving homeowners' faces as they looked from my friend's cute, girly witch costume to my questionable apple pie [costume] were priceless," sophomore Bec Patsenker said.
What you'll need:
Beige and yellow fabric

Cotton filling

Circular pieces of cardboard

Hot glue
About the Contributor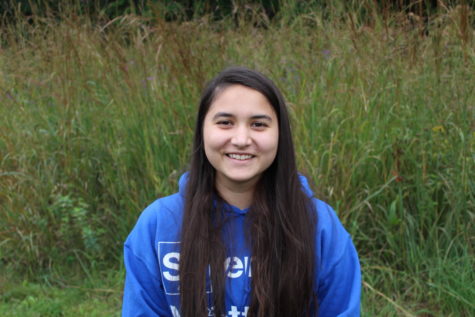 Madeline Maurer, Staff Reporter
Madeline Maurer, class of 2021, is a first-year reporter at WSPN. After school, Madeline performs in WHSTE's plays and musicals and serves on the board....