"You're A Good Man, Charlie Brown" hits the stage Nov. 16, 17, 18
The curtains of the auditorium will open for the Wayland High School Theater Ensemble's production of "You're a Good Man, Charlie Brown" on Friday, Nov. 16. In addition to students performing titular roles, staff members will join the actors onstage to perform in the ensemble.
WHSTE director Aidan O'Hara pulled inspiration from his previous productions by welcoming staff members into the musical.
"[The production] had a really positive impact on the school community, not only on the cast of staff and students, who got to know and see different sides of each other, but [also on] the audience, [who] saw all of the connections that were made on stage," O'Hara said.
O'Hara believes that the non-traditional plot of "You're a Good Man, Charlie Brown" convinced students and staff to get involved in the production.
"[The production] is based on Charles Schulz's comic strip 'Peanuts,'" O'Hara said. "It has that episodic, vignette-like feeling."
A unique production like this one helps teachers like Amy O'Connell explore new creative outlets. O'Connell teaches visual art at the high school and was excited to have an opportunity to pursue a performing art.
"I've always liked to sing, and I never [did] musicals in high school, so this was my chance to get involved," O'Connell said. "I was a little nervous that I wouldn't do my best or not get the moves down, or understand the lines, but [the show has] been coming really smoothly."
Inexperienced staff members have gone through structured rehearsals, ran lines, practiced choreography and learned from veteran student actors. According to O'Hara, seasoned actors often step up and take leadership roles.
"The students bring a wealth of knowledge about different routines on how to participate in something like a rehearsal, but also [help out] during production week," O'Hara said. "I think the students will emerge as the go-to people for the staff cast members to go to."
Senior Renée Case, who plays Lucy, is excited to show off the work that the teacher and student cast has put into this production.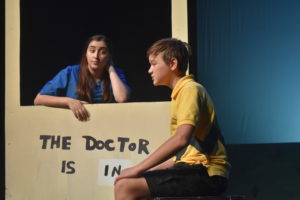 "The teachers are doing their best and they look like they're having a great time," Case said. "They've risen to that challenge, and committed themselves."
The depth of the content was one reason O'Hara chose this musical. The music also has elements of modern-day pop music and an energetic feeling that appealed to him. O'Hara believes that the relatability of the characters' problems would make the audience connect to the characters onstage.
"When people come to see a piece of theatre, they're coming from their own lives, they're distracted, they're carrying their own baggage, and I feel like this show has the ability to have an impact on the audience," O'Hara said. "[I think] it will leave the audience not only smiling but reflecting on their own family and friends."
O'Hara's attempt at merging students and teachers was successful. O'Connell enjoys the time she spends with her students and says it's fun to see them as actors rather than students.
"I have [sophomores] Bec [Patsenker] and Katherine [Deane] in class, [and] it's fun to see them in other roles," O'Connell said. "I know both of them like to sing and dance, and it's been really fun talking to them about the show in class."
Junior Matt Behrle, who plays Schroeder, also enjoys the connections he's made with teachers, especially those who he wouldn't normally interact with.
"It's been so much fun to be in a musical with my teachers, as well as teachers that I didn't [previously] know," Behrle said. "They bring so much energy to the stage, and I think they'll bring a really great vibe to this year's show."
O'Connell also feels more connected to the Fine Arts Department.
"I know so much more about [musical] productions now, [including] all the terminology, so I have an idea of what [O'Hara, Department Head Susan Memoli and music teacher Rachel Carroll] are talking about," O'Connell said. "I haven't gotten to see all the work that they do to put on a production. I feel like I understand more [of] what they do, and it's really impressive."
"
More people should do a musical or a play. Definitely go for it if you're thinking about it. You may just surprise yourself."
— Amy O'Connell
Behrle agrees with O'Connell.
"Having teachers in the show makes [this year's musical] a lot more communal," Behrle said. "It's a lot peppier and cheerier than last year's musical, which was "Little Shop of Horrors," and [it's] definitely a great show for all ages."
Even though the Charlie Brown comics are composed of and aimed towards elementary school children, O'Hara believes the meaning of the show runs much deeper than the age of the portrayed characters.
"As far as the material [goes], the comic strips and show are meant for all ages, and since it's a cartoon, it appeals to younger kids," O'Hara said. "But I would say the songs, lines, and lyrics appeal to adults, and I feel like [the material] is very mature."
O'Connell is glad that a portal to theatre opened for her. Though she was nervous to leap out her comfort zone, she's glad she took the risk.
"More people should do a musical or a play, even if they feel nervous because I know there are a lot of kids that do this show that are nervous or have never done it before," O'Connell says. "Definitely go for it if you're thinking about it. You may just surprise yourself."
Performances are Friday, Nov. 16 at 7:30 p.m., Saturday, Nov. 17 at 7:30 p.m. and Sunday, Nov. 18 at 2:00 p.m. Tickets can be purchased online at showtix4you.com as well as at the door.
About the Contributor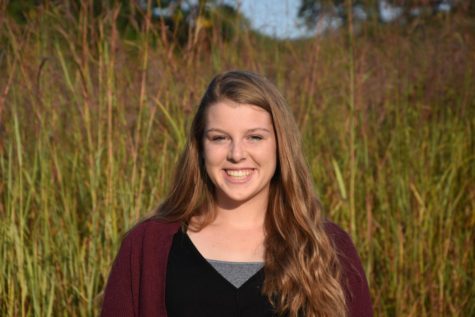 Julia Callini, Multimedia Editor
Julia Callini, Class of 2020, is a multimedia section editor for WSPN, and this is her third year on the staff. She is an optimist, feminist and a diehard...