Seniors prepare for annual powder puff football game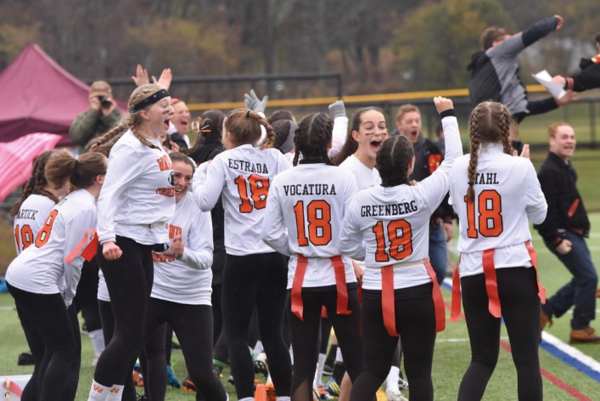 While members of the Wayland football team prepare for their annual Thanksgiving game against Weston, senior girls are also passing pigskins and running sprints. Every year, senior girls from Wayland High School battle against senior girls from Weston High School in a flag football match known as Powderpuff. Many seniors participate in this yearly event and must work together in order to defeat Weston.
"It's a fun way to unite the senior girls," senior Amanda Armstrong said. "I also love watching football and think it would be fun to try to play."
Throughout the history of the Powderpuff games, Wayland has always played against Weston. Weston has become a rivalry for Wayland for many of the sports here at the high school, so for the girls, they are especially excited about this game.
"I'm looking forward to being really competitive and kicking Weston in the butt," senior Samantha Neuman said.
As the game approaches, senior girls and their coaches from the Wayland football team work together to prepare many girls for their first time playing in a competitive football game.
"We divided into our different groups and started doing plays and defense, offense and scrimmaged a little bit," Neuman said.
The girls are physically preparing through drills and practices for Powderpuff, but they also must mentally prepare to fully understand the rules of flag football. Senior Brooks Jones coaches the Powderpuff team and recognizes the challenge of teaching the game to many of the girls.
"Some of the girls don't really know a lot about football, so it's been hard to teach them the basics," Jones said. "I didn't really think about people not knowing [them]. I found that teaching football from scratch is very difficult, but they're getting it, so that's great."
The coaches taught the girls to run plays during the game in order to maximize their chance at winning. The Wayland football team uses some of these plays.
"We have a bunch of plays that we stole from our offense," Jones said. "We have a scheme [where] we are just planning on running the ball a lot and passing a couple of times."
The girls are ready to take on the challenge of their first football game. They are going into the game with determination and confidence.
"I definitely think that we can beat Weston," Armstrong said. "I know someone on the Weston team, and [they said] they have only had one practice so far. We also have really athletic and competitive girls, so I think we have a good chance."
Although the Wayland players and coaches do not know what to expect from Weston's team, they feel prepared and are hoping to continue a winning streak after last year's victory. The game will be held at Wayland High School on Wednesday, Nov. 21 after school. A time has yet to be determined.
"I want to win, but I don't really know a lot about Weston," Jones said. "I hope we win."