Warrior Weekly: Wrestling pins the competition
The Wayland wrestling team opened up their 2018-19 campaign with a quad meet on Saturday, Dec. 8. Wayland hosted Holliston, Keefe Tech and Lexington at the WHS field house. This year, Wrestling has had their sights set on returning to the Division 3 Central Sectional Finals, where they fell last year.
Wayland was looking to start the season off with a win against the three visiting squads. The roster is led by senior state champion Brooks Jones and senior sectional champion Mike German. Jones and German are captains of the roster alongside senior Erik Sweeney.
The meet began at the weight class of 120 pounds, where Wayland put forward sophomore Oliver Cerne. High school wrestling meets are structured so that each match is followed by the next heaviest until the 285-pound class leads back around to the lightest weight class, which is 106 pounds. This gave Wayland a slight advantage as far as how they would clinch the meet. Holliston didn't have a wrestler for the 113-pound class, meaning they were forced to forfeit that match. Because the meet began with 120 pounds, it would finish on the 113-pound class, meaning Wayland only had to have an advantage of five points heading into the last match of the day.
Wayland had an overall great day at the home meet. Wayland saw match victories from freshman Greg Deeley, sophomore Damien Parseghian, junior Cameron Jones and both German and Brooks Jones. Brooks Jones managed to pin both of his heavyweight opponents in under 20 seconds.
After a full day of wrestling, Wayland was down 31-34 with only two matches to go, only one of which they could actually compete in. They needed a match victory from their 106-pound guy, their lightest wrestler. Onto the mat stepped freshman Finn O'Driscoll.
O'Driscoll wasn't going to wrestle going in the winter sports season; he was set to play basketball. It took some last second persuasion by head coach Sean Chase and teammate Deeley.
"I was persuaded by coach Chase and Greg Deeley the most," O'Driscoll said. "[Deeley] told me that they would forfeit six points for every tournament if I didn't wrestle, and I knew I had to do it."
Fellow freshman and 106-pound wrestler Thomas Balicki later joined O'Driscoll.
O'Driscoll and Balicki practiced together up until this meet. O'Driscoll couldn't field an opponent from Keefe Tech nor Lexington. The whole meet boiled down to Holliston sophomore David Touchette against O'Driscoll. Touchette wrestled for Holliston in the 106-pound weight class at last season's Division 3 Central Sectional Finals. In contrast, O'Driscoll had never wrestled at the high school level before.
"Once you step on the mat, you have to focus on the match and not much else," O'Driscoll said. "It felt good [because] I knew how many people counted on me."
O'Driscoll managed to come out of the first period with a two-point advantage.
"The match started, and I knew going into it I had to win for us to win the whole thing, so there was pressure," O'Driscoll said. "I started off the match [feeling] a little nervous, but [I] was able to focus when the first whistle blew. The first portion of the match was fine – I was up by two points. By the second period, my arms were as good as dead."
Despite the pain he felt throughout his body and especially in his arms, O'Driscoll kept pushing Touchette, realizing the outcome of the meet depended on him.
"By the end of the match, it was 10-3 and my arms were about to fall off," O'Driscoll said. "The first person to greet me was Brooks Jones with a bear hug."
O'Driscoll's match ended 10-3 in his favor, and Wayland won the meet 40-34 over Holliston. They also recorded a 60-24 victory over Keefe Tech and won 62-12 over Lexington.
The team will wrestle 14 other schools at the annual Wayland Holiday Tournament on Saturday, December 15. This will be the first away meet of the season.
About the Contributor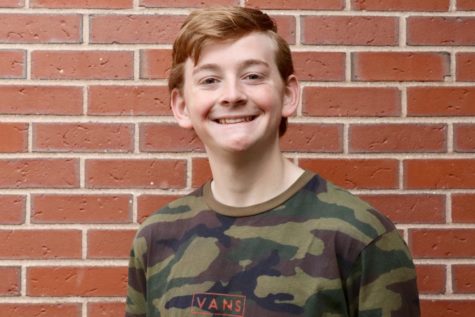 Charlie Moore, Editor-In-Chief





Charlie Moore, class of 2020, is a fourth-year journalism student and fourth-year reporter for WSPN. He is a Co-Editor-in-Cheif for WSPN. In...