Swim and dive team sells "gold cards" as fundraiser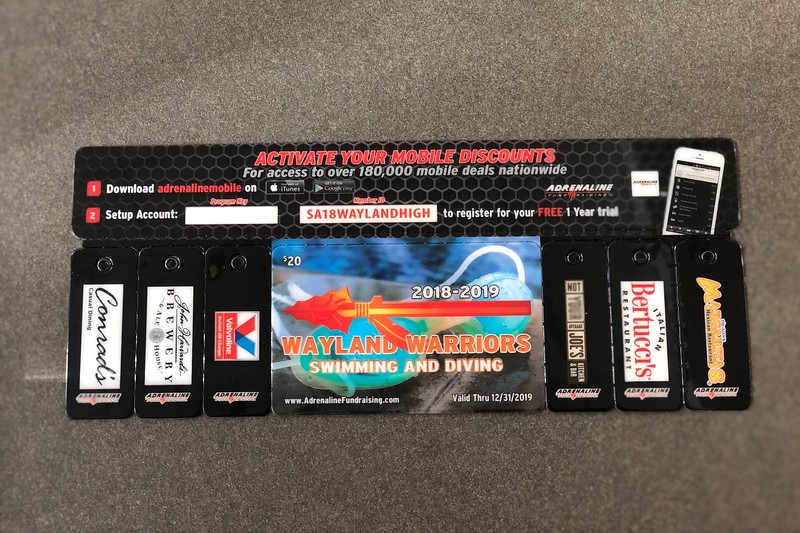 While other teams may use sales of food or apparel to fundraise, the Wayland High School swim and dive teams sold "gold cards" to kick off their season. The gold card is composed of six small stubs that can be used for discounts at places such as Bertucci's restaurant or Margaritas. There is also one credit-card sized stub that allows for discounts at 23 other restaurants and stores such as Brine's Sporting Goods. One card costs $20, and the team members sold their cards by visiting local neighborhoods, standing outside stores and selling to students.
"It's a fundraiser for the swim team where we sell gold cards to give a bunch of discounts on stores in the area," senior swim captain Nick Smith said. "They also contain nationwide discounts if you download an app."
The fundraiser is sponsored by Adrenaline Fundraising, a company that works with teams or businesses to help fundraise. This company has helped the swim and dive team with the gold card fundraiser for many years.
"The fundraising group, Adrenaline Fundraising, talks to all of those companies [on the card] beforehand and makes the card for us," Smith said.
The main purpose of this fundraiser is for the team to raise money to continue to repay the cost of the Wayland community pool.
Opened in November 2010, the new community pool was funded primarily by donations as well as a loan from Middlesex Savings Bank.
"All the proceeds go to helping to pay the bill that was paid to fund the making of the pool," senior swim captain Emma Dilanni said. "Anything that's leftover, we [use] to fund apparel or whatever we need for the pool."
The team usually sets a short amount of time to complete the fundraiser, so they are striving to sell as many as they can within the weeks they're given.
"The fundraiser lasts about a week and a half to two weeks, so everyone has to go out and sell as many as they can in that amount of time," Dilanni said. "Sometimes it's extended, but it's usually not."
The teams set several goals for themselves regarding the fundraiser. Each team member is expected to sell at least 25 gold cards each, meaning $500 raised per person. They are hoping to raise more than the amount made in previous years.
"Everybody gets 25 gold cards, but our goal for the team is [to sell] 20 [on average]," sophomore Isabella Cvrk said. "If the entire team [sells] an average of 20 gold cards, we get a day off from practice during December break."
Not only do the gold cards raise money for the team, several members of the team believe the fundraiser is very effective and ultimately helps save money.
"It's a really great fundraiser because it gives you lots of discounts from many places around Wayland and nearby towns," Cvrk said. "If someone spends $20 on a gold card, people will basically get their money back because of the money they saved from the discount."
About the Photographer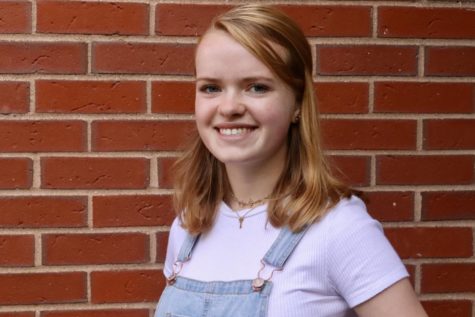 Meredith Prince, Co-Editor-in-Chief
Meredith Prince, Class of 2021, is a third year reporter and co-editor-in-chief of WSPN. She is a captain of the varsity softball and basketball teams...