Molly Kooshan: There's a whole world out here
The Friday afternoon before Columbus Day Weekend, math teacher Molly Kooshan was wrapping up her classes and heading home. While many students and teachers looked forward to taking the extra day off to relax or get ahead on work, Kooshan had an eventful weekend planned. Over the course of the next three days, Kooshan would travel 3,000 miles across the Atlantic Ocean and manage to squeeze in three memorable days in Ireland before flying 3,000 miles back home and teaching her first-period calculus class the following Tuesday.
Since she only spent three days in Ireland, planning the trip down to the minute was crucial.
"We mapped it out in advance," Kooshan said. "We knew where we were flying in, and we were flying out of a different airport, so we mapped a route out and picked a few things along the route that we wanted to do."
Kooshan's favorite part of visiting Ireland was seeing the Cliffs of Moher, a group of cliffs 14 miles long along Ireland's west coast.
"I think [the Cliffs of Moher] was my favorite part because it was so beautiful," Kooshan said. "[On] the day that we picked, the weather was so nice that [there was] this really clear view."
Since she's visited innumerable foreign countries, including the likes of Canada, Mexico, the Netherlands, Denmark, the United Kingdom, Sweden, Ireland, Spain and the Czech Republic, it's hard to believe that Kooshan only began traveling abroad three years ago.
"It's Mr. Krasnoo's fault because he organizes the Italy trip," Kooshan said. "One of the chaperones couldn't go last minute and he needed to pick a young person who [didn't] have to check with their family. He needed to know by the end of the day if I could go."
Kooshan agreed to help chaperone the trip and quickly found herself in a unique environment. This was the first time Kooshan had ever left the United States, and she was completely oblivious to the particularity of traveling abroad.
"That was my first time leaving the country," Kooshan said. "I had two huge bags. I didn't know how to pack."
Kooshan quickly grew to adore Italy, Europe and traveling abroad in general.
"I loved it," Kooshan said. "It was an amazing trip. It was so cool. It was a full week. We did the Amalfi Coast, we did Rome, we did city stuff and we did countryside stuff. That was the initial start. I was like, 'Woah, there's a whole world out here!' I want to explore; I want to see [everything] while I'm younger."
Kooshan acknowledges that there are some drawbacks to going on a hyper-planned trip like the Italy trip.
"Sometimes if you plan the whole thing out, you kind of miss some random things that you'll come across if you don't have it all planned out perfectly," Kooshan said. "On the other side of that is the Italy trip. Someone else planned it for me. It was so planned out [that] you're exhausted by the end of the day, but it [still] maximized my time there."
Soon after coming home from Italy, Kooshan began planning future visits to Europe. She has since visited Prague, the capital of the Czech Republic.
"[Prague] was one of my favorite places that I've been [to] just because it's such an old city and the buildings were so cool," Kooshan said. "The little streets and shops [were] so nice. I want to go back."
In many of these smaller European countries, like the Czech Republic, the inhabitants live much closer together than Americans do, both literally and figuratively. A lot of national pride and close culture results from this close-knit community typical of European countries. For Kooshan, a big part of traveling abroad is experiencing a country's national pride and culture.
"There's so much country pride, and there's obviously American pride, but [this is] different," Kooshan said. "People are so well-informed about their country and how things work. They're so proud of their culture and their food and their everyday life, and they're so excited to share that."
Nearly all of Kooshan's travels have been in Europe. Kooshan prefers traveling to Europe due to the shorter, more affordable flights and ease of travel.
"There are definitely other places that I want to go besides Europe," Kooshan said. "I just feel that Europe is so close, and it's easy to get a direct flight there."
Kooshan also notes that since nearly everyone speaks English in many European countries, there's no need to learn parts of a new language every time she travels. This is important since Kooshan tends to go on shorter trips.
"Part of it is the language," Kooshan said. "Most people speak English in most European countries, so that makes it a little bit easier since my trips are kind of short."
Not to say Kooshan doesn't want to travel to other parts of the world. Kooshan dreams of visiting countries across the globe. Her next goal is making it to Australia.
"I really want to go to Australia, but it's so far," Kooshan said. "I want to [be able to] spend a long time there. That would [have to] be in the summer, but [unfortunately] our summer is their winter."
Other destinations on Kooshan's bucket list include Hawaii, Iran and Turkey.
"[My father] lives in Iran, so I want to travel there at some point," Kooshan said. "[It] might be a little difficult right now, but at some point, I would definitely like to do that."
Kooshan stressed that the easiest way for a student to get out of the country and see the world is through study abroad and exchange programs.
"If you get the opportunity to study abroad or do some sort of exchange, I would totally recommend it," Kooshan said. "I wish that's something that I had experienced when I was younger because now I'm just getting into things and I know soon my life is going to slow down. I feel like the younger you get exposed to it the more time you have to travel."
About the Contributor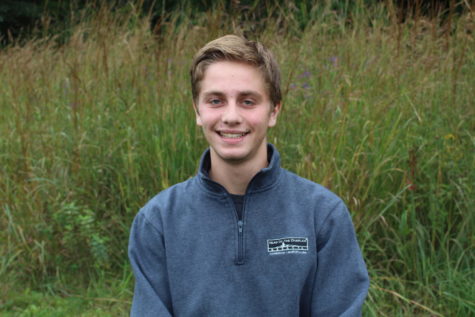 Alex Janoff, Business Manager
Alex Janoff, class of 2019, is WSPN's business manager. He is a first-year reporter. Outside of school, Alex is a coxswain for Wayland-Weston crew and...