WW '19: MVP presents to Class of 2020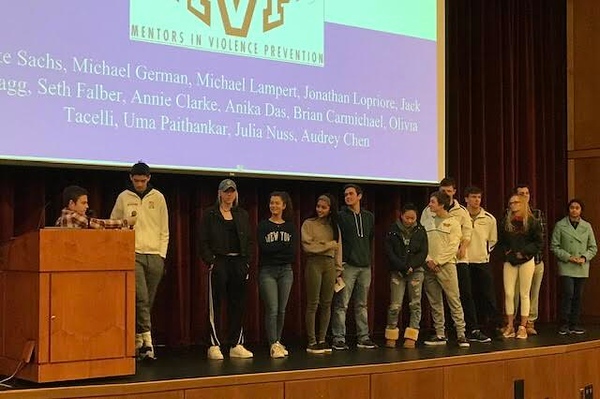 Mentors in Violence Prevention, also known as MVP, has been a club at WHS for several years. MVP is a national organization that specializes in preventing domestic abuse and also focuses on other important points such as drinking and driving, partying and bullying. The group at WHS is composed of several seniors each year, ones who hope to help educate students on more difficult topics.
The club is run by the numerous wellness teachers at WHS, but the students have a big leadership role, especially when helping to educate other students who may not be old enough to join.
The seniors help run the club by advocating its message and motto to the rest of the student body. Senior Jake Sachs decided to join MVP because of his desire to help the other students at WHS, specifically juniors.
"I joined MVP because I liked the message of the club, [and] I thought it would be very helpful to help educate some of the juniors and [other] kids [who were] coming up through Wayland schools," Sachs said.
The seniors also help by assisting others in voicing their opinions. Senior Seth Falber joined MVP because he wants people to understand that there can be two sides to a relationship. He has the ambition to help people who are stuck in abusive relationships.
"I joined MVP because I realized there are many athletes who abuse their partners and it only gets [revealed] because of a camera or [by] chance," Falber said.  "Nobody is reporting it. My goal is to help as many people as I can and try to stop at least one domestic issue."
Since MVP is a senior-only club, the Class of 2019 is mainly focusing on teaching the juniors about the club as a whole, since they are this year's prospects.
"I would tell [juniors] to not just judge [MVP] from what they've heard and to give it a chance, and it will be fun if you try it out," Sachs said.
Since MVP focuses mainly on domestic violence, many students have labeled the club as "male-bashing," a term that describes the insulting of men. Many students are hesitant to join the group because of this stigma. However, the male leaders of MVP believe that the club is the opposite of "male-bashing."

"I would tell someone that it isn't just male-bashing. It's not weird to join. It's something good. You're helping not only your friends but your community," Falber said.
The club focuses on a much wider range of topics than just physical abuse in relationships. The club also has a different meaning to each student.
"To me, [MVP] means being there to watch for my friends at a party or something like that, and to make sure I act responsibly and so do they," Sachs said.
The senior leaders of MVP envision themselves using their knowledge about domestic issues past their high school experiences.
"My goal is to help as many people as I can and try to stop just one domestic issue," Falber said. "I hoped that I could learn a little more about the issues and how I could help the people around me and the ones close to me."
Participating in the club has been an eye-opener for many MVP leaders. In the future, they plan on using their abilities when they become aware of an unhealthy relationship.
"I personally have just been able to see abusive relationships in the news and look at relationships in general from a different perspective," Falber said. "I now know more specifically what to look out for in the future. But as of right now, I haven't physically put my skills to action."

Click the logo for full coverage of Winter Week 2019