WW '19: "The Fourth Wall" combines athleticism and musicianship in dynamic performance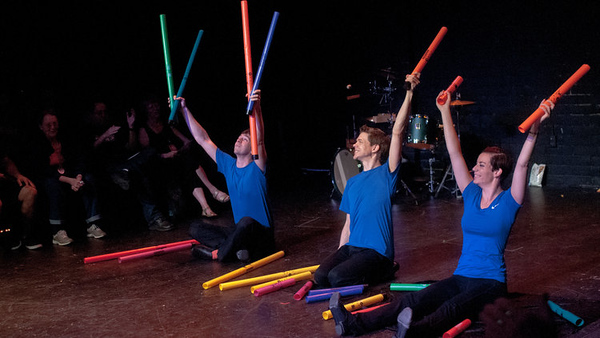 A combined music and theater group named The Fourth Wall performed two concerts at WHS on Thursday, Jan. 31. The group was brought to WHS as a Winter Week program by Wayland Concert Series leader Charlie Anderson, who mingled with the ensemble at both concert events and on Facebook.
The Fourth Wall consists of bass trombonist Neil Parsons, flutist Hilary Abigana and percussionist Greg Jukes. The three performers originally began the ensemble in 2010 since connecting with a different company that gave them the opportunity to fuse music and theater into one type of show. Since then, they have split off from the other company and formed the Fourth Wall.
"We're all conservatory-trained musicians, but we also had a deep love for the other performing arts," Abigana said. "We didn't feel the need to not enjoy those as well."
For WHS, The Fourth Wall performed a production named "Fruit Flies Like a Banana," which consists of nearly one hundred different short acts and was inspired by neo-futurists in Chicago, New York and San Francisco. The ensemble chose about 10 to 20 individuals for the Thursday performance and allowed audience members to select which act they would perform by randomly picking cards.
"[The] show is all about the nostalgia of childhood, something you don't have yet; if you think about when you were five years old, and it would snow and it was the coolest thing. You would have that complete, utter joy," Abigana said.
"Every show is unique," Jukes said. "We kind of pick whatever repertoire is fresh for us: things that we think are interesting; things that we think are contrasting."
Jukes mentions that one of the best parts of creating a flexible production such as "Fruit Flies Like a Banana" is the trial and error that goes into consolidating a stronger performance repertoire.
"That's kind of the cool thing about the work though, is that we create a bunch of stuff and some of it's just crap, but you have to try it," Jukes said.
Parsons indicates that the ensemble's name stems from their practice of interacting with the audience or breaking the invisible "fourth wall" that traditionally separates the production and the viewers.
"[Breaking the Fourth Wall] personalizes the performance both for us and the audience," Parsons said. "I feel like the audience gets to know us a little bit by the end of the show. We rely on them to help us make the performance happen, and they definitely complete the picture."
The ensemble's acts often require acrobatic feats such as playing instruments upside down or carrying people on your back. As a result, the three performers extensively stretch and physically prepare themselves before concerts – things that musicians don't usually do. In order to prime their bodies for performance, Parsons notes that the ensemble trains with a variety of techniques and styles.
"Our training has been eclectic but not constant," Parsons said. "We all have some training in circus skills, but it's not something we're necessarily doing every week. We all have modern dance training, [but] again, [that's] not something we are doing every week."
The rigor of The Fourth Wall's art places a time limit on the ensemble's existence, as athleticism and flexibility naturally decline as the years pass. The group, however, plans to hold out as long as possible.
"[We'll continue] as long as we can," Jukes said. "Some of the more ambitious physical stuff has a timeline on our bodies, so as long as we can keep the quality of work up, we will keep doing it."
Click here to visit The Fourth Wall's website.

Click the logo for full coverage of Winter Week 2019