WHS students reflect on their Super Bowl experience
The Super Bowl is typically a popular attraction for WHS students. However, only a handful of students attended this year's Super Bowl LIII in Atlanta, Georgia. Junior Alyssa Dennis and her twin sister, Olivia, watched the New England Patriots defeat the Los Angeles Rams, 13-3, in the lowest scoring Super Bowl game in history. In 2017, senior Brooks Jones and his brother, junior Cameron Jones, attended Super Bowl LI, where the Patriots defeated the Atlanta Falcons 34-28 in overtime.
Even though this year's Super Bowl wasn't as much of a nail-biter as it was in 2017, Alyssa Dennis still enjoyed the game.
"It was very different and very hype. We met [up] with a bunch of other families that we know, [so] just being able to be with people I knew to experience history, it was just awesome," Alyssa Dennis said.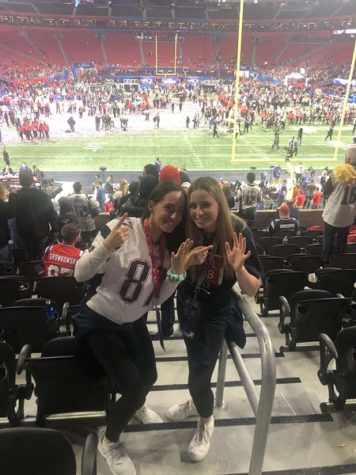 Unlike previous Super Bowl games, this was the lowest scoring game in history. Like most fans, Alyssa Dennis was surprised with the first touchdown being in the 4th quarter.
Despite being a primarily defensive game, fans were still on their toes waiting for anything to happen.
"When it was 0-0 the whole time and the other team had the ball, you [would] just sit there and kind of freak out because anything can happen," Alyssa Dennis said. "So obviously, I was confident [in the Patriots' chances], but it could have gone either way."
According to Alyssa Dennis, just being in Atlanta added to the special experience.
"You're walking outside in Atlanta, and you're in a whole new place with random people – [like] other fans from other places," Alyssa Dennis said. "And it felt like you were walking the streets of Boston, but we weren't in Boston."
Each year, fans look forward to the Super Bowl halftime show, an event that makes the game even more exciting and memorable. In 2017, Lady Gaga performed at the break, and this year's performance was led by Travis Scott, Maroon 5 and Big Boi. However, for both games, Brooks Jones and Alyssa Dennis agreed that the show wasn't as good as they had expected.
"Personally, I didn't like it because they designed the halftime show to be most appealing through the camera," Brooks Jones said. "Watching it at home would be cooler."
Alyssa Dennis re-watched the halftime show on TV with her dad to compare each version.
"So, I was really excited for Travis [Scott] to play a bunch of songs, and [then] he played just one song," Alyssa Dennis said. "I don't know; I thought [the halftime show] was kind of boring. I mean, it was still fun because I got to see it live, but shows in the past have been so much more intense and cool."
To most fans watching at home, it would seem that watching the Super Bowl in person is better than watching it on TV. However, according to Brooks Jones, TV has its perks.
"You see everything up close and hear the commentators during the game," Brooks Jones said. "You also get to see all [of] the funny commercials."
Brooks Jones' favorite part of his Super Bowl experience was witnessing the Patriots' comeback win in overtime.
"It was the biggest comeback in Super Bowl history," Brooks Jones said. "It was a once-in-a-lifetime thing to witness. It was very thrilling."
Overall, Alyssa Dennis also had a fun experience at the game, and she hopes to go again in the future.
"My favorite part was the experience of just being at the game," Alyssa Dennis said. "It kind of felt like a home game [because] it was pretty much all New Englanders, and the hype was just really fun."