Mateos Norian: Soccer gives me an opportunity to expend my energy in a social or fun way
Many WHS student-athletes seeking the next-level playing experience have committed to playing their sport at their dream schools. Non-athletes have to undergo what is seen as a much more riveting process, filled with the uncertainty of applying to many schools. But a verbal commitment to sports actually shares a piece of that uncertainty.
The process of recruitment for student-athletes is grueling. Between college visits, prospect days and showcases (and in their parents' case, money), a lot of time and effort has to go into pursuing further athletic goals.
Senior Mateos Norian has been committed to play men's soccer at Babson College since early Dec. 2018. Norian has always known he wanted to play soccer in college, but reaching his goal took a lot of hard work.
Since returning from living in London for a year, Norian has been very focused on soccer. He has played with the Global Premier Soccer club (GPS), the New England Revolution U19 team and the Wayland boys varsity soccer team during his recruiting process.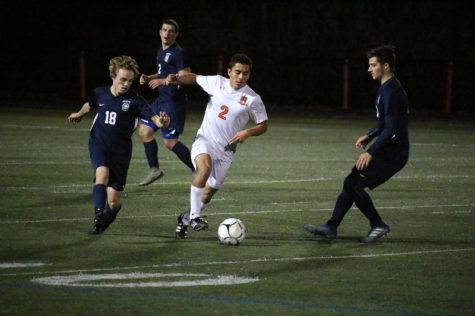 Putting in work is an essential part of playing a sport in college. One of the most crucial things athletes learn to understand is that the work does not stop once one is committed. In order to succeed at that next level of play, practice is essential.
Norian still tries to touch a soccer ball at least six out of seven days of the week. On top of that, he is conditioning three to four days a week at Compete Strength and Conditioning in Norwood, MA. The assistant coach at Babson, Tim Peng, is a coach at Compete, which focuses on agility and speed and targets strength through personalized lift regimens.
Even when he verbally committed to Babson, he knew he still had a long way to go.
"I was happy, but I realized that I still had to stay focused in school and keep practicing," Norian said. "I wasn't too out of my mind [with excitement]."
Even though the Babson coaches reassured Norian that his application was likely going to make it through admissions, some of Norian's club soccer teammates weren't given offers due to poor grades. Further, players who don't communicate well enough with the coaches and who don't keep their grades up can get denied from their committed school.
Getting through admissions this fall was the final step in confirming Norian's future at Babson. If he maintains his current GPA for the rest of the school year, he will be hitting the field for the Beavers next fall.
When narrowing down his choices, Norian was especially drawn to Babson due to the fact that it is local and has a great reputation as a business school. The school specializes in entrepreneurship, which is what Norian is interested in pursuing academically.
For many athletes, their favorite sports are oftentimes treated as a mental outlet and escape. Norian loves soccer because it gives him the opportunity to expend his energy on something he is passionate about.
"Soccer gives me an opportunity to expend my energy in a social and fun way," Norian said.
Because of his persistence and hard work, Norian has a bright future ahead of him, academically and athletically.
Career Stats over two years (WBVS): 8 goals, 7 assists