Artist of the Month: Rachel Chau
During their education at Wayland Public Schools, students have the choice to pick up a string instrument when entering third grade. Most students who choose to play an instrument don't continue past elementary school, but those who do tend to have a special connection to music. Senior Rachel Chau decided to follow in the footsteps of her father and play the violin. Since third grade, Chau has been continuously practicing. Her dedication and hard work have led her to join national ensembles.
Chau chose to join the Happy Hollow orchestra in third grade, along with many of her classmates. However, not only did Chau follow her interest past elementary school, but she also rehearsed immensely outside of school, allowing her to become the violinist she is today.
"I love to play because music is kind of a universal language, and [one] that everyone can understand and pick up on," Chau said. "[Also,] you can communicate different ideas and messages through sound."
Chau's passion and grit to practice the violin have given her many opportunities to play in some of the most exceptional ensembles there are for high schoolers. Every year since seventh grade, Chau has been accepted into both Junior and Senior Districts. She is also a part of the Boston Youth Symphony Orchestra (BYSO), in which she rehearses every week, playing pieces that professional orchestras play.
"I'm part of Boston Youth Symphony Orchestras. It's a really intense ensemble, [and] we rehearse five hours a week at [Boston University]," Chau said. "We get to perform at Boston Symphony Hall and Harvard Sanders Theatre, and performing operas."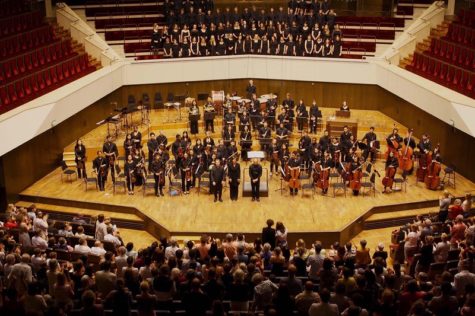 Chau was also accepted into the Massachusetts All-State Orchestras all four years of high school. While playing in these ensembles, Chau has gotten the opportunity to travel to many different places to play the violin.
"I've been able to perform in local Boston areas and Symphony Hall. In April, I will travel to Pittsburgh to represent Massachusetts at the 2019 All-Eastern United States Honors Orchestra," Chau said. "I also [went] to Leipzig, Germany to represent the United States at the 2018 International Bach Festival with BYSO, and I was one of 20 violinists to travel there and just experience a different culture, and it showed me how powerful music was."
While Chau was in Germany, she got the chance to perform at the Leipzig Marketplace, Altenburg Castle, and the Gewandhaus Concert Hall.
Chau also loves to use her musical talent to give back to her community. She currently plays for her church orchestra, and she has assisted WHS ensembles and performed at local community events in the past.
"I will definitely play in college, at Harvard, but I probably won't major in music at this point," Chau said. "I definitely will continue serving my community and join orchestras."
As a senior, Chau has committed to attending Harvard College next fall, where she will most likely major in statistics. But she doesn't plan to stop playing the violin anytime soon.