Bostonian reunited with biological family after 16 years speaks at WHS
Writer and producer Nelson de Witt emphasizes the power of stories
Writer and producer Nelson de Witt traveled to WHS to tell his life story on Feb. 8. During the span of the morning, de Witt talked to some of the language classes. Within his presentation, he talked about how he believes in the power of stories because people can relate and find comfort in them that they may not find anywhere else.
De Witt was separated from his biological family at the age of two and lived in an orphanage in Honduras before he was adopted. His adoptive parents lived in Boston, where de Witt grew up until his father got a phone call one day when de Witt was 16. That call informed de Witt and his family that his biological grandmother had been searching for him for 14 years. After this discovery, de Witt reunited with his family in Costa Rica. The discovery of his biological family opened de Witt's eyes to a whole new world that was different from the life he had been living before.
"[This discovery] is something that I've lived with all my life, and one way I know of wrestling with the nature of it is the sharing – is to talk about it," de Witt said. "So for me, it's very rewarding to be able to talk in front of a group of people [about my life]."
De Witt has told his story in a variety of ways, including a documentary called "Identifying Nelson/Buscando a Roberto," which he has been working on since 2010. The film started out strong when his team started to film in El Salvador. The first three minutes of the film were used to create the clip some students saw in the presentation. After collecting the initial footage, de Witt and his team couldn't figure out how they wanted to tell the middle of the story, and as a result, the project remained in limbo for a number of years. However, after de Witt learned about story structure, the project started back up again.
"[Story structure] not only helped me make sense of my world, but it also has helped us put together the film and put structure around this series of events," de Witt said. "It was hard to figure out how all this stuff relates to each other, so it was kind of like putting together a puzzle."
When learning about the structure that a lot of stories go through, de Witt learned a lot about stories and how telling a story through a certain viewpoint can make people see the story in the best possible way. De Witt told his story with a movie titled "Inside the Journey," a podcast, and a book named "Waking From Innocent Dreams." These different ways of showing the same story helped people reach and understand his history to the fullest extent.
"Having read Harry Potter, you get a lot more sense of the character's thoughts, what's going on and what it feels like to be at the school," de Witt said. "The movies are a lot more about action and visual effects. So when you're reading a book, you have to visualize what it's like to fly on a broom. In the movies, you can experience that median. So each median brings a different aspect to the table."
The importance of storytelling is what de Witt wanted every student to take away from his presentation. That importance includes the ideas that students can relate stories to their own lives and find solidarity in the fact that people have felt the same emotions for hundreds of years.
"Stories are coping mechanisms that help us understand the world," de Witt said. "[Life] can be very complicated and overwhelming, and there is something comforting in knowing that we are not alone with feeling this way or dealing with these issues."
According to de Witt, another great thing about stories is that they allow us to dream and find our imagination.
"Stories allow us to pretend that we are [superhuman] and experience the world as Harry Potter or one of the Avengers," de Witt said.
Overall, de Witt's presentation was meant to open students' eyes to the significance of stories, but he also offered students advice about life in general and ways to deal with issues that he learned from his story.
"Life can be unpredictable, but we're all in this together," de Witt said. "I think that understanding that you're not alone with whatever is happening in your life [and] that we've all been there at one point or another is really helpful."
About the Contributor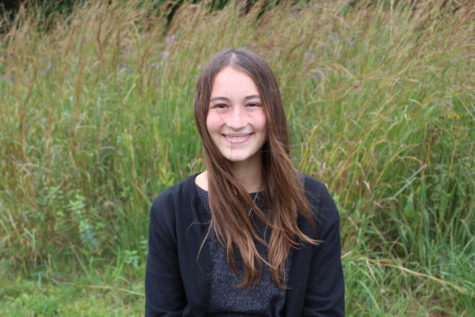 Cammy Lehr, Staff Reporter
Cammy Lehr, class of 2021, is a first-year reporter for WSPN. She enjoys English class and is excited about journalism this year. In her free time, she...