Girls varsity basketball incorporates practice players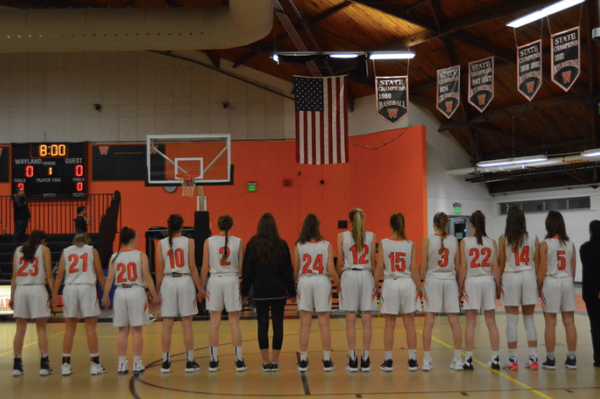 For the past few years, the Wayland girls varsity basketball team has incorporated "practice players" into their practices several times per week. This idea has been implemented by head coach Amanda Rukstalis.
The practice players are a group of junior and senior boys at WHS who have volunteered to help the girls get practice against strong competition. Many girls on the team believe that the boys help them improve and prepare for the toughest opponents.
"I think the practice players bring us a lot of, first of all, energy," senior captain Kate Balicki said. "They're boys, so they're a lot stronger than us [and] a lot faster than us, so they prepare us for really tough competition. Also, no competition really matches their competition against us in practice, so I think that they really bring out an element of intensity to our practice, and they help us get better and work against stronger teams and faster players."
The girls believe that part of the reason for their success in the past several years is because of the addition of practice players.
"I would say [the practice players] are pretty necessary to being more successful just because there's a lack of competitiveness in girls, just in general, that there's really not with guys," junior captain Emma Kiernan said. "Guys are always competitive, so that really brings up the level of intensity when we play as a team. As a team, it forces you to make harder passes and better decisions."
Rukstalis agrees with Balicki and Kiernan when it comes to the impact that the boys have on the team. She believes that there have been key moments throughout the season that have displayed the Warriors' increased toughness and aggressiveness against strong opponents.
"We beat Waltham after having [senior practice player] Jake Tyska play [Waltham senior] Lauren Sampson in practice, who's a Division I scholarship basketball player," Rukstalis said. "Again, boys are stronger, faster [and] more athletic in most cases than girls, so just playing defense against them really prepares us."
Practice players are not restricted to specific types of people. To become a practice player, however, you need to be selfless, disciplined, hardworking, and experienced in basketball.
"Usually the girls bring the names [of possible practice players] to me, and then I say yes or no," Rukstalis said. "Not that I would say no, but I want to make sure that I know that they're going to come and be serious. Because that's the other thing, is that it's not for them. I'm glad that the boys enjoy doing it, but it is to help us get better."
Freshman Sammy Johnson managed to make varsity as a freshman and agreed that the practice players' roles in the team's success are very important. She also explained that her experience with the boys in practice has been much different than her time on the girls middle school basketball team.
"In middle school, it was definitely more fun and more just hanging with your friends and [being] more social," Johnson said. "This year, it's definitely more competitive. It's just generally a more competitive feel in high school than it is in middle school."
However, being a practice player isn't all fun and games. The boys brought up that you have to put the team before yourself and realize that you weren't there just to fool around and have fun.
"[Being a practice player] really shapes me as a character," senior practice player Gage Fuller said. "You've got to be really disciplined as a practice player, and you have to put the work in. It's a completely selfless job. The girls team is getting everything out of it, and we're just trying to help them get better."
While the girls get great experience practicing against tough opponents, the boys also are able to have a great time and get the feeling of being a part of a team.
"I think it's fun during the winter because we get to feel like we're part of a team," senior practice player Andrew D'Amico said. "Otherwise, we wouldn't [be on a team], and it's fun to be around a different atmosphere, especially because none of us have played on a high school basketball team."