Celebrating Black History Month at WHS
POWER club implements "quotes system," strives for unity
Hang on for a minute...we're trying to find some more stories you might like.
Every February, the US celebrates Black History Month. The goal of the celebration is to remember important people and events throughout the history of African Americans. Every year, more people join in the celebration of the black community. This year, the National Hockey League (NHL) is celebrating Black History Month for the first time as part of its "Hockey Is For Everyone" campaign.
Just like the NHL, Wayland High School is amping up its efforts to celebrate Black History Month. Junior Shawn Bernier is the president of the POWER club. Bernier, along with other members of the club, is working hard to spread awareness throughout the school.
"Right now, we are partaking in many different events and activities that we're planning for Black History Month," Bernier said. "Some of these activities consist of after-school movies. We [also] plan on showing the movie 'The Hate You Give' sometime in the near future."
The POWER club also has other plans for the future. Although some of these plans are not disclosable at the moment, the club will release details when the time is right.
"We have a show planned, but I don't want to give too many details away because it is a surprise," Bernier said.
Every day of the month, between second and third block, a member of the POWER club tunes into the schoolwide PA system to share a quote from an important figure in black history. Junior Brett Morris emphasized his fondness toward the daily quotes.
"I think it is really cool how they are doing the quotes over the loudspeaker and teaching everybody about black history," Morris said. "I am learning some new stuff every day."
Morris isn't the only student who admires the announcements. Junior Josh Ellenbogen also believes the quotes are very powerful.
"I think [the announcements are] really interesting, and I also think the daily quotes were a really good idea," Ellenbogen said. "[The] whole month is really powerful."
Morris and Ellenbogen don't need to look any further than Bernier, who created the idea of sharing the daily quotes with the school.
"I came up with the idea of the daily quotes," Bernier said. "I had some help from [junior] Fatma Sayeh. The goal is to think of someone who has embodied the idea of 'BERT' and how we can implement that into a quotes system where we can announce that every day."
The term "BERT" is a popular acronym that is introduced to students at Wayland Middle School. "BERT" stands for belonging, empathy, respect and trust, which serve as a set of core values for all students.
Bernier believes that there are always more things to do to make Wayland High School as celebratory of Black History Month as possible. This motive is Bernier's primary reason for spreading awareness throughout WHS.
"I don't think [Wayland High School does] enough currently [to celebrate], which is why I took the initiative to try to create more ways to make Black History Month further incorporated into the WHS system," Bernier said.
The POWER club seeks to create unity and alliance within the halls of WHS. Bernier knows that it sounds a lot simpler said than done, but taking action helps put a foot in the right direction.
"The number one thing we want is to have more unity amongst everybody," Bernier said. "It would also be awesome if it wouldn't just be people of color [who] recite these quotes and partake in these events and hopefully brainstorm for future events."
Bernier hopes that WHS students are taking these announcements to heart.
"Our goal is for people to listen to [the announcements and quotes] and find a way to connect with them in a deeper meaning," Bernier said.

About the Contributors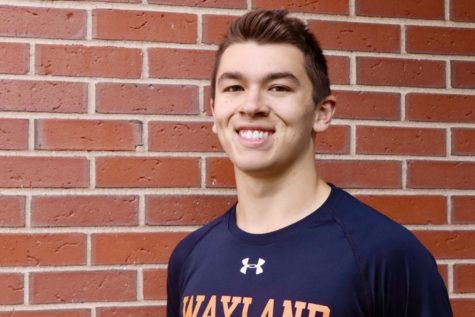 Aiden Chitkara, Senior Staff Reporter





Aiden Chitkara, Class of 2020, is a second-year staff reporter for WSPN.  He will be a captain for the boys' hockey and lacrosse teams. In his...