Keita Williams: Piano lets me express myself in ways I can't through words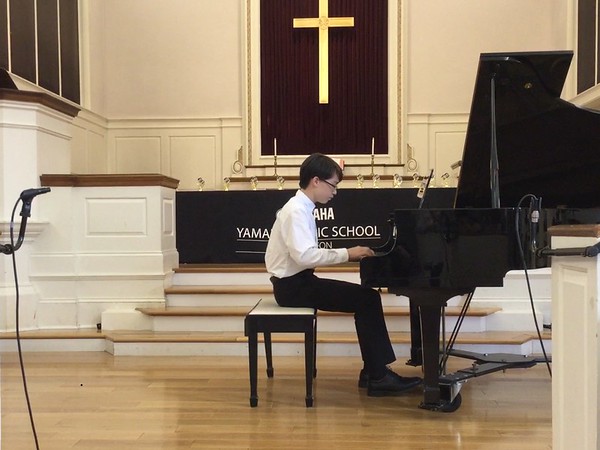 Many students choose to play instruments to showcase their artistic talent. To expand their artistic talents, some go to the extent of composing their own music. This includes freshman Keita Williams, who has composed a number of his own pieces on the piano.
Williams never imagined himself playing the piano and definitely never imagined composing his own music in his teenage years. However, his youthful ideals shifted when his mother decided to schedule him piano lessons at the age of four.
"I was four years old when I was forced into playing the piano," Williams said. "Luckily, I soon found joy in playing. Now, I am grateful to my mom who made me start."
Williams' mother, who is also a piano player, has been one of his biggest supporters and is the person who always pushes him to try new things. Williams began composing music because his mother thought it would be a good challenge for him.
"My mom was the main reason I started composing my own music," Williams said. "I had started composing a while back, but that was just fooling around, not really creating a song. She signed me up to take lessons on composing, and that was where it all started."
Every day, Williams designates an hour of his time to practice piano. His hard work has led him to compose different styles of music.
"I have composed well over ten songs using computer software, but I have just started combining that with different instruments and have composed two of the combined ones so far," Williams said. "I usually practice about an hour a day, but before concerts, that time increases to about an hour and a half to two hours."
Out of all the songs he has composed, Williams believes that his new song called "Trials" is his best piece yet. When composing this song, Williams tried implementing new methods to make it sound different from others.
"My most recent one, 'Trials', is my favorite because it uses instruments that I am familiar with including two violins and a piano, as well as instruments that I have never touched like synths and electronic drum kits," Williams said.
Courtesy of Keita Williams
Composing a song from scratch is a long process for Williams. Because Williams plays other instruments such as the trumpet and violin, he believes its important to include different instruments in his music. For this reason, he tries to not only focus on the piano but even composes notes for other instruments in his music.
"It is a long process, and everyone does it differently," Williams said. "It's just a matter of finding the right tempo, instruments and flow."
When composing music, Williams finds patterns and uses different methods to make the perfect tune for his audience. The process starts by finding a pattern of chords, followed by the recording of melodies that blend with the chords.
"The final touch to a piece is fixing the little things, which is probably the most important part," Williams said. "Once I'm done, I write it all up with software and give my music out to my performers".
Aside from composing music, Williams also enjoys competing in different concerts against other musicians. Last year, Williams also had the honor of being a performer of the JOC Yamaha All School Concert.
"I entered my first composition contest last year in the Junior Original Concert for Yamaha," Williams said. "I am in the midst of it this year as well."
Courtesy of Keita Williams
Competing isn't the only thing Williams is interested in. He enjoys showing his work to people in the entire community and has embraced the opportunity to perform to people of all ages.
"Sometimes [I am] invited to play for younger kids at preschools or at facilities for elders," Williams said.
Many people have experienced failure or even wanting to quit their talents. Williams has struggled with this obstacle in the past but has never failed to go back.
"Every time something gets hard, or I get stuck, I have the urge to quit. Overcoming this is so hard, but once it is done, it feels great to be creating music," Williams said.
Williams recalls one of his toughest moments from when he was in fifth grade.
"When I was in fifth grade, I really wanted to quit," Williams said. "I thought it was a waste of time, I thought I wasn't getting better, and I thought that I had no point of doing it anymore."
After entering high school, he has realized that balancing his schoolwork, extracurricular activities and music work has become more difficult. He enjoys playing and composing music because it lets out a different side of him and allows him to relax.
"I like the way it lets me channel my emotions and forget about everything else," Williams said. "When I play the piano, it lets me express myself in ways I can't through words, but at the same time, lets me forget about stress and everything else."