Alanna Xue: When you're playing, you forget all the background noise and just focus on making it beautiful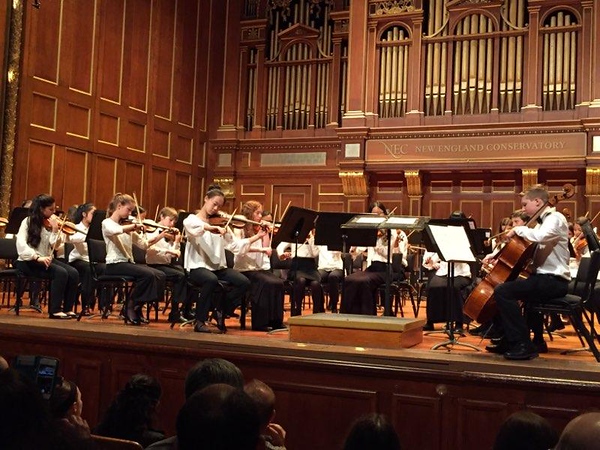 Countless students at WHS play an instrument, but few find much true zeal and joy in their musicianship. For freshman Alanna Xue, playing the violin is personally rewarding. Since she was four years old, Xue has been mastering her musical skills.
Xue's father's love of the violin compelled him to sign her up for lessons before she had even made it to kindergarten, hoping to give her the chance to learn a skill he never had the opportunity to acquire himself.
"My dad's favorite instrument is the violin, but he can't play," Xue said. "So he got me lessons and I just happened to fall in love with it along the way."
Xue hasn't stopped improving since. Beginning with the Suzuki Method, she worked with a private teacher until the sixth grade, when she began studying with Christopher Memoli.
"When I switched to taking lessons with Mr. Memoli, he actually pushed me a lot more than I had ever been pushed in the Suzuki system," Xue said. "I think my biggest achievement is actually how much progress I made."
While learning from Memoli, Xue's skills flourished; during the next three years, she turned the violin from a hobby in which she ignored most of her mistakes to a dexterity that she could perform with ease. Though the transition was undoubtedly difficult, Xue looks back on it with pride and considers it a period of time in which she pushed herself to new limits.
"At first, I was super intimidated," Xue said. "The expectations had risen a lot and I couldn't get away with practicing once or twice a week anymore. First, I was just super stressed all the time, but then, as I got used to it, I started pushing myself and practicing more and now I love practicing more."
To help her get through those first couple months, Xue went back to the root of her passion for her instrument of choice.
"Violin is such a pretty instrument," Xue said. "There are so many virtuosic and brilliant pieces out there written for it, and since string instruments are said to be the instruments most similar to the human voice, I think it's moving every time you play a piece. For me, it's just the way I get immersed in the music and the notes and the phrases when I'm playing; that's what drives me to keep going because I love it so much."
Xue believes the playing itself is so gratifying that it even diminishes her nerves during an audition or performance.
"Especially when you're playing a piece that you really like, you forget any background noise or anything else that's going on and you're just focused on making what you're playing as beautifully as possible. And sometimes, you're not even focused on that; you just let go and let your fingers play and you let your bow move and occasionally, what comes out is something really beautiful," Xue said.
However, playing the violin is not always the transformative experience Xue often finds it to be. Sometimes, despite her best efforts, her hard work does not come to fruition, and she does not always create what she believes to be "a piece of art."
"The hardest was when I was auditioning for the concerto competition at the New England Music Camp," Xue said. "It was pretty difficult because I had started to learn the Butterfly Lovers concerto several months before, and I think it got to the point where it felt like nothing else could be done to help improve it because I had done everything I could already. Mentally, it was just super frustrating because you're practicing and in a room and not able to pick anything to improve on."
It is in moments like these when Xue reminds herself why she is so passionate about her music and why she loves to play the violin.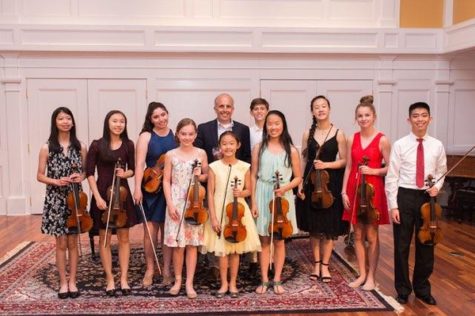 "It's the moments when you win a competition or finally master something you've been trying really hard for a really long time – those little moments – that make you really happy," Xue said. "It drives you to get more of those."
Xue knows better than anyone that practice, no matter what its goal, is not always fun. She makes it a point to incorporate even the most boring of exercises to help build her technique and make her a more fully rounded player during her practice time.
"For things like etudes and double stops, I find that while they can be painful and super difficult, literally making me want to cry sometimes, they can be more fun than scales and arpeggios, which are terrible but I know are good for me," Xue said.
This part of practicing and becoming a better player is another weight that drags down the enjoyable aspects of the violin, yet Xue doesn't allow that to tarnish the beauty of the violin.
"Recently I just did an etude, the 36th caprices etude in an etude book by Fiorillo, and even though it was super hard and made my hands hurt really bad, it was really pretty in a way, and the satisfaction that you get after you master an etude you've been working on for weeks is really rewarding."
For Xue, playing the violin is not just a hobby she participates in to put on her college application. Playing the violin is an experience for her and gives her the opportunity to both create something that is both beautiful and rewarding. Her admirable view on violin extends to all music, all types of which she says she loves.
"No matter what instrument you're listening to, you can always find beauty in it," Xue said.