Warrior Weekly: Red Sox season preview
"…And the best team in baseball wins it all in 2018!" Joe Buck's voice echoes over the FOX broadcast of the 2018 World Series. Chris Sale had just dealt Los Angeles Dodgers shortstop Manny Machado a particularly nasty 1-2 slider to strike him out. The 2018 Boston Red Sox had the best record in franchise history,108-54, with a gentleman's sweep over each of their postseason opponents, clinching the Fall Classic Victory.
The Sox, led by AL MVP award winner Mookie Betts and Cy Young candidate Chris Sale and piloted by new manager Alex Cora, steamrolled Major League Baseball and clinched their fourth World Series championship of the 21st century, an MLB first.
Before the Sox began their historical campaign for league dominance, they made one major splash in the form of JD Martinez, who turned out to be the middle-of-the-lineup bat the team had been missing since the retirement of David Ortiz. They also re-signed first baseman Mitch Moreland and utility man Eduardo Núñez.
But that was last year.
How does a major league club re-establish its authority one year removed from the winningest campaign by a major league club since 2001? Does it sign marquee free agents as it did with Martinez? Does it make some high-stakes deals like the trade for Chris Sale in exchange for top prospect Yoan Moncada in 2017?
For Dave Dombrowski and the Red Sox front office, the answer is neither. The Bo-Sox had an extremely quiet offseason – so quiet that their most glaring issue from 2018, a lackluster bullpen that served as a minor crack in their shield, has now turned into a glaring hole.
Additions: The Red Sox established a dearth of glaring "needs" to alleviate for 2019. In theory, you cannot go wrong with 'not fixing what isn't broken' seeing as the team won 108 games the year before. That being said, the Red Sox still had a leaky bullpen, and plenty of Red Sox members are hitting the free agent market. Dombrowski, the Sox's President of Baseball Operations, acted accordingly.
Jenry Mejia – The Red Sox signed the former New York Mets closer to a one year $625,000 contract. Mejia is a low-risk, high-reward talent as he has shown flashes of greatness in his tenure with the Mets. Unfortunately, he hasn't pitched since 2015 and has been popped for performance-enhancing drugs not once or twice, but three times in his brief career.
Brian Ellington, Erasmo Ramirez, Ryan Weber – Dombrowski brought in three middle-career relievers to fight for a roster spot in spring training. Ramirez, Ellington and Weber all have varying levels of experience and have shown good potential in the past. However, they in no way make up for the losses of some bullpen pieces from last year.
Deductions: One can only hope Dombrowski knows what he is doing with allowing so many good players to walk this past offseason. The major elements to the Boston bullpen that found new homes played big roles for the Sox last year and may be missed down the season stretch.
Joe Kelly – A fan favorite in Boston known specifically for his high velocity and high temper, Kelly was the flamethrower of the Boston bullpen. He signed a three-year deal with the World Series runner-up Los Angeles Dodgers and will be duly missed in Boston. He will be best remembered for inciting a Sox-Yankees brawl last April.
Ian Kinsler – The second base veteran was brought in from the Los Angeles Angels at the deadline last season. Kinsler seemed to serve as a discount Dustin Pedroia as Pedey was nursing a season-long knee injury. Kinsler was not a major aspect of the 2018 championship squad and will serve as a nice compliment to the San Diego Padres infield with fellow acquisition Manny Machado. Kinsler may also be the sole reason the Red Sox failed to sweep the Dodgers last October as he miscued a base-running play.
Drew Pomeranz – Pomeranz is the only player Red Sox faithful won't miss this Opening Day as he performed abysmally all of last year. He pitched to the tune of a 6.08 ERA with a 2-6 record. During the Sox's 18-inning bout with the Dodgers, manager Alex Cora decided to pitch a starter, Nathan Eovaldi, instead of Pomeranz as the game dragged on. Pomeranz will join fellow Red Sox reject Pablo Sandoval in San Francisco.
Internal Improvements: This is where Dave Dombrowski focused his attention this past offseason. Dombrowski may have let a good amount of pitching help walk to other clubs, but he signed back and extended the very top talent from the Red Sox roster.
Nathan Eovaldi – The acquisitions of Nathan Eovaldi and Steve Pearce in the late summer of 2018 may go down as Dombrowski's finest front office work. Eovaldi was an absolute marvel for the Sox last season after being acquired from the Tampa Bay Rays for what sums up to be a bag of baseballs and a couple of peanuts (basically nothing). Eovaldi signed back with the Sox for a four-year pact worth $68 million, a much-deserved paycheck for 'Nasty Nate.' Eovaldi pitched a 3.33 ERA over 12 starts in Boston. He also managed a 1.61 postseason ERA.
Steve Pearce – The World Series MVP. Pearce, another genius acquisition, this time from Toronto, was granted a nice one-year, $6 million deal to return to Boston. He proved to be one of the Sox's most clutch hitters in 2018, slamming three bombs in one game against the rival Yankees in August and three more over the course of the World Series, earning him WS MVP honors.
Eduardo Núñez – Núñez was signed back for $5 million this past November as Dustin Pedroia likely won't be back in time for opening day. Núñez has been a staple of the Sox defense in years previous, and he is a catalyzing figure in the clubhouse.
Chris Sale – The extension of Chris Sale is by far the biggest move the Red Sox made this offseason. After contract extension talks with Mookie Betts fell through, the Red Sox turned to their ace, arguably the best lefty in the game, and offered him $150 million for the next five years of his career. Sale is an absolute menace on the bump, dealing a 2.11 ERA in 27 appearances last season. Had a month-long elbow injury not plagued him last year, Sale would have been 2018's Cy Young Award winner.
All-in-all, the Red Sox look really good going into 2019. What worries a fan could be their lack of meaningful improvement to an already shaky bullpen, yet one has to trust Dave Dombrowski to bring another ring to Boston. Sox 2018 closer Craig Kimbrel has yet to sign back with the team or any team for that matter and may be sitting out in 2019. That may turn out to be the most un-replaceable element of last year's roster. The division rival New York Yankees made plenty of offseason moves, especially additions to their bullpen, and may turn out to be even more menacing than last year. The Sox, however, have a title to defend, and they won't be giving up the World Series trophy easily.
About the Contributor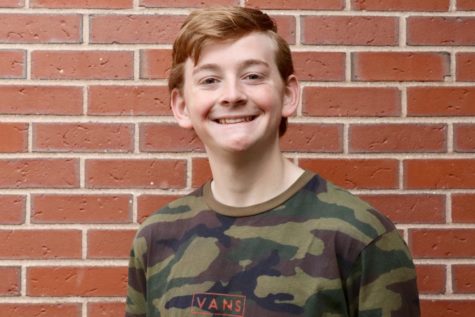 Charlie Moore, Editor-In-Chief





Charlie Moore, class of 2020, is a fourth-year journalism student and fourth-year reporter for WSPN. He is a Co-Editor-in-Cheif for WSPN. In...