Reflection of the 2019 Senior Show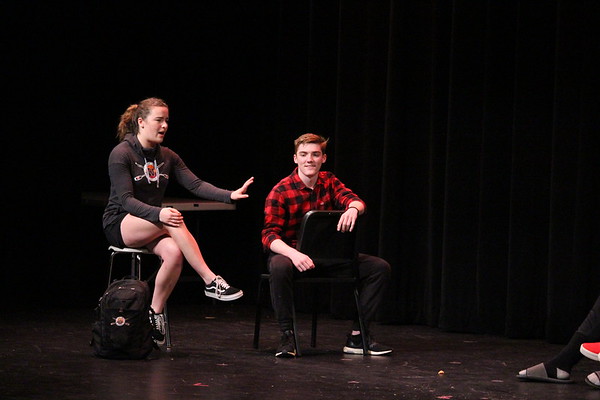 Nothing says class bonding like dancing together in your underwear in front of your parents and teachers. The class of 2019 worked together throughout the winter to put together WHS's annual Senior Show, a performance run entirely by the seniors in which they act out comical skits reflecting their time at WHS. This year's show opened on March 22 and attracted many students, teachers, and parents.
Seniors Andrew D'Amico, Lizzie Francis, and Jake Tyska were given the roles of directors for this year's show. The three were responsible for writing, organizing, and casting skits as well as mapping out stage directions and supervising video shoots.
Although D'Amico and Tyska had little experience in the drama field, Francis brought a lot of ideas to the table.
"I hate acting [because] I'm just not good at it," Francis said. "However, I work a lot on short films and I do a lot of photography, so I'm better at micromanaging things."
On the other hand, D'Amico has dreamt about being involved in the production of the Senior Show since his freshman year.
"I was interested in [directing] for a while because I didn't have anything to do in the spring and I thought it would be fun," D'Amico said. "I wanted to incorporate my own ideas into the show, and that was easier to do as a director."
Although fun, directing came with many challenges as well. Creating entertaining skits took a lot of time and effort, and despite the directors' commitment to the show, engaging the entire grade was difficult.
"Getting people active and excited about the show was really difficult because it's a busy time of the year, and it's easy for people to think it's not their job because they aren't a director," D'Amico said. "We really had to nag people to start writing scripts."
The directors began crafting scripts at the beginning of January but didn't have any concrete scripts until mid-February. Participants found themselves filming videos just two weeks before the show, and the very first run-through of the entire show was only six days prior to opening day, with many hours spent in the theatre after school.
"The most challenging part [of directing] stems from my favorite part: working with people that I don't necessarily talk to. While a lot of people saw this as a senior bonding activity, I saw it as a legitimate production," Francis said. "So it was frustrating that, at times, actors would work against us to put in innuendos about people or things that happen. Because I'm not in the same social circle as a lot of people, it was hard to establish a sense of authority."
In addition to the senior directors, teachers Joanne Schmidt and David Schmirer helped in making sure that the show was appropriate and well-developed.
"[Schmidt and Schmirer] were helpful advocating for us and being honest and upfront with what we could and couldn't put in the show so that we didn't have any major surprises in the end," D'Amico said.
Despite the difficulties, the directors enjoyed their roles in the production and encourage rising seniors to involve themselves as well.
"Directing was fun being together as a class because it brings us together before the end of senior year, and it's something that a lot of people haven't done before, including myself," D'Amico said.