Wayland Public Schools: 10 years as one of the Best Communities For Music Education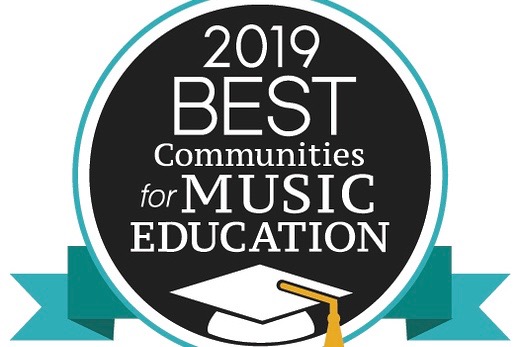 Wayland is most recognized for its high standard of public education. However, the elite education offered is far greater than core subjects such as English, math, history, and the various sciences. Many Wayland students have experienced first-hand that the town is home to a high-profile musical education as well. Recently, Wayland Public Schools has been awarded as one of the 2019 Best Communities for Music Education by the NAMM Foundation.
"This is the 10th year in a row we have been distinguished," K-12 Fine Arts Director Susan Memoli said.
This award is no easy achievement, for many factors contribute to determining which districts are recognized.
"The award has a lot of different metrics that they decide what communities actually qualify for this, so various directors all across the country apply," Memoli said. "It's based on the support network, the levels of participation, the ratios of staffing, [and] what kind of courses you offer."
A variety of courses is one of the Wayland music program's biggest strengths, and according to Memoli, this fact was an integral factor in the district's being awarded.
"Even though we are a pretty small district, we have so many different offerings," Memoli said. "We have lots of groups that achieve very high levels, and then we offer a lot of varied [classes] that appeal to a wide spectrum of kids."
Music proves to be a priority of the community, for it has been instituted into the education of all Wayland students.
"Starting in kindergarten, they're having general music," Memoli said. "They have this rich experience all the way through to where students at the high school level can make choices. In Wayland, our program is really strong because of that continuity."
The presence of music in Wayland's curriculum can be attributed to the community and its values.
"We are really lucky that in the MetroWest and Boston area, there are a lot of really strong [music] programs," Memoli said. "I know the community really does value [music]. We have so many visual and performing artists that live in our community, so there is a real understanding and desire of what the arts provide for students."
Just as academic classes prepare students for college and the workforce, music generally contributes to the future of Wayland students as well.
"If you are able to focus and bring the discipline that is required to attain a high level of proficiency, you literally can do anything," Memoli said. "You can be whatever you want to be because you understand what it takes to break down a really complex something, and to turn that something into something really beautiful."