Tristan Wolff: I want to play music for the rest of my life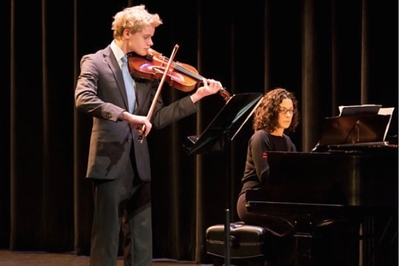 Many Wayland High School students enjoy playing an instrument to escape reality and enter the musical world, but there aren't many students who excel in their field as much as junior Tristan Wolff. Wolff is one of the most talented viola players in all of New England. At one point in time, Wolff was ranked the second-best violist in New England for his age group.
Wolff is no rookie when it comes to music. Wolff plays the piano in his free time, but his real talent lies with the viola. Wolff has been playing the viola ever since third grade, when he joined third-grade strings taught by Whitney Tandon. Wolff knew that he was going to play a string instrument, so he picked the viola because he could play with many of his friends.
"I have been playing the viola since third grade," Wolff said. "I knew I was going to play a string instrument because my mom wanted me to, and a lot of my other friends decided to play the viola, so I wanted to play with them."
The majority of Wolff's viola lessons happen over at the Rivers School Conservatory in Weston, MA. He performs alongside some of the most talented young musicians in all of Massachusetts. Wolff notes that he is not the only Wayland musician to practice at Rivers.
"I take private lessons over at the Rivers School Conservatory," Wolff said. "That is where a lot of Wayland people take lessons."
Wolff credits Rivers for much of his successes and does not think that he would be the violist he is today if it wasn't for the people that surround him.
"I wouldn't be the musician I am today if it weren't for Rivers and all of the other amazing teachers and peers that I have had over the years," Wolff said.
Wolff also plays the viola here at WHS for the Honors Chamber Orchestra. Wolff joined the group during his sophomore year after a successful tryout.
"I play for the Honors Chamber Orchestra here at WHS," Wolff said. "You need to be a sophomore to do that, and I've been doing it for the past two years, and you need to audition. I think I had a pretty good tryout [when I was a sophomore]."
Even though Wolff is only a junior, he is one of the most accomplished musicians in the whole school. Wolff was recently named to the 2019 All-Eastern Honors Ensemble. Furthermore, Wolff has been named to All-States in each of the last two years.
"Recently, I made All-Eastern, which is a pretty big accomplishment for me," Wolff said. "That was one of my goals coming into the year, so I was really happy to get that honor. I have also made All-States the past two years."
Wolff also performed alongside some of Wayland's best musicians on Thursday, March 28 for the Tri-M charity event.
Wolff is undecided on whether or not he will apply for a conservatory or study music in college. Although he is certainly talented enough, Wolff is unsure if he wants to declare music as his major. Wolff also has aspirations to study business in college.
"I haven't really decided yet," Wolff said. "I am probably going to apply to a music school, so we'll see if I end up [playing the viola] or not."
At the end of the day, Wolff just wants to do what he loves, and that is playing the viola. Wolff claims that becoming a viola player has played a role in shaping him into the person that he is today. The talented musician has no intentions on putting down his viola anytime soon, and he wants to keep playing music for the rest of his life.
"I really love music, and I have been playing for a while," Wolff said. "Even if I don't play in college, I want to play music for the rest of my life."