Culinary Arts course to debut in fall 2019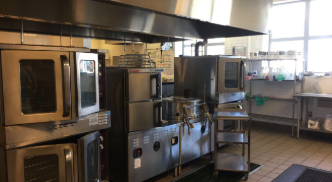 Wayland High School's wellness department will introduce the first-ever culinary arts course in fall 2019. The selection of course electives at WHS is an integral process for students. Signing up for electives allows students to discover a new aspect of learning and find a new definition of their high school education. The list of electives available to students has long offered a variety of interesting study points, but a new one is to be added next year.
The wellness department has previously offered Youth Leadership, Zumba, Project Adventure Part Two and Drugs in Our Society as electives. "Culinary Arts" is Wayland High School's first ever home economics class and looks to be the wellness department's most popular elective. The class will be taught by K-12 Wellness Director Scott Parseghian.
"The only [Wellness] elective that has run so far is Youth Leadership, and it's the only one that has had enough kids to sign up," Parseghian said. "All of the other departments have some really neat electives, so we wanted to make sure that we offered some electives for kids too."
Parseghian came up with the class with an intent to teach students healthy food decisions and to alleviate a persistent request for a home ec class.
"We've always heard that kids want a cooking class," Parseghian said. "We partnered up with the Wayland food services [and] Cheryl Judd, who is the head of the food department. We worked out a deal that they would let us use the kitchen for the class, so we're pretty excited about it."
Outside of building culinary skills, students will learn how to practice healthy eating behaviors as well as meal preparation and shopping procedures. Parseghian plans to also hit on kitchen safety and sanitary culinary practices.
"We want to run some 'Chopped' [challenges] and some other baking challenges, making contests out of it all," Parseghian said. "We're going to be partnered up with a group of four or five people and prepare a dish, and we'll have some teachers come by and sample and decide some stuff. We're wide open, [as] we don't have a curriculum nailed down [yet]."
The class lacks a set curriculum for now, as it is the first of its kind at WHS. Wayland Middle School students of years past may recall a culinary class, but one has never been an aspect of Wayland High School.
"When I was in middle school, which was the late 80s, there was a cooking class at the middle school," Parseghian said. "But there has never been one since when I was a student, so this will be the first one."
Despite the culinary arts course not being offered before, many students have already requested the elective, highlighting its potential.
"I talked to [Assistant Principal Ethan] Dolleman, and there are already 63 kids who have registered for the class," Parseghian said. "He said that those are some of the biggest numbers they have seen in a long time, so that's promising."
The only issue that remains for the culinary arts course is how they will accommodate so many students who want to take the course next year. Parseghian and the administration also have to decipher how to utilize Wayland High School's kitchen, the location of the to-be class.
"We don't really know what we are going to do yet because we thought that we would get 10 or 15 kids and we would run one section," Parseghian said. "With this many kids, we're now talking about running two or three sections, so we'll see how it goes."
"The problem is we can only use the kitchen in the afternoon, so we don't know if we'll only be able to use it [for] two days in an eight-day cycle.," Parseghian said. "We [would] do more days and use the days that we cannot use the kitchen to go to the classroom and do the prep, [do] the planning and [do] some more teaching."
All in all, there appears to be a mutual excitement between both students and teachers for the launch Wayland's first cooking class. Culinary Arts will be a semester-long course and will begin in September 2019.