Opinion: College Board – a very profitable not-for-profit
According to its website, the College Board is a "mission-driven not-for-profit organization that connects students to college success and opportunity." Unfortunately, the College Board's claim that they are a not-for-profit organization is at the least misleading, and at the most, plain wrong.
Let's start with the College Board's claim that they are a not-for-profit. A not-for-profit, or nonprofit, as they are more commonly called, is any type of organization that doesn't earn profits for its owners. According to Investopedia, "all of the money earned by or donated to a not-for-profit organization is used in pursuing the organization's objectives and keeping it running."
There's widespread speculation that the College Board could be violating its not-for-profit status, which excludes them from paying taxes on income. Despite being a not-for-profit, College Board has made a profit in each of the last 10 years that data was available, except for 2014.
Furthermore, the College Board's CEO and other executive officers are earning egregious salaries for a nonprofit company. In 2017, College Board CEO David Coleman made $1.3 million. For reference, the CEO of the American Red Cross, Gail McGovern, made around $670,000, despite the American Red Cross bringing in double College Board's yearly revenue.
This is a problem because, despite these profits and high salaries, College Board still charges high school students and their families exorbitant fees to set themselves up in the best way possible for post-secondary education. The three main services that College Board offers are the SAT, the SAT II Subject Test and the AP Exam.
The SAT is your baseline standardized college entrance exam. Nearly every college in the US requires either an SAT score or an ACT score (the ACT, provided by another nonprofit company, is similarly expensive to the SAT and is a story for another time). In order to take the SAT, an aspiring student must pay the College Board either $47.50 or $64.50 for the exam either for without or with the essay, respectively.
This isn't a one-time fee either. Many students take the SAT multiple times throughout their high school career. This fee is required each time a student takes the exam, which can become a huge financial burden for students seeking admission to top-tier colleges and their families.
Another service College Board offers is the SAT II Subject Test. While these tests aren't required for many schools, a lot of engineering programs or technical schools require up to three total SAT Subject Tests: Math II and one to two sciences.
Each SAT Subject Test requires a $26 registration fee and an additional $22 fee for each test. For a student taking three exams during the same testing session, it would cost around $90-$100. Taking all the tests at once is unlikely, however, since it is recommended to take a Subject Test directly following completion of the respective class.
For a prospective engineering student at WHS taking the Math II, Biology and Chemistry Subject Tests, it would cost $48 each (registration fee plus test fee) after ninth, 10th and 11th grades if Math II is taken after completion of Pre-Calculus, Biology is taken after completion of freshman Biology, and Chemistry is taken after completion of sophomore Chemistry. Subject tests alone would cost the student a whopping total of $144 throughout their high school career.
Finally, we reach the behemoth that is the Advanced Placement Exam. A high score on an AP test can get a student out of credit requirements in college, so many students end up taking AP classes in subjects they enjoy or those in which they tend to do well. Students who take AP classes are required to take the corresponding AP Exam at the end of the year.
What's so frustrating about AP exams is their ridiculously high prices. Each exam costs $94. For a test fee as high as nearly 10 months of Netflix, College Board does not give a detailed score report, refusing to break down each individual section and provide the student personal feedback on essays. For a test fee as high as two to three tanks of gas, the College Board provides the student with a score of a single digit.
After sitting through a challenging AP class, graciously paying $94 and sitting in a sweaty gym for four hours in May, the College Board in return provides you with a one-digit score.
What's so frustrating to me about College Board is specifically their handling of AP exams. I think $94 is way too high for what College Board provides in response. Even for a for-profit company, I would categorize these fees as a company simply taking advantage of high school students. What's more, the College Board tries to squeeze as much extra cash out of students and their families as possible. Do you want to send your AP score to a college for credit? That'll be another $15.
Furthermore, the College Board is able to get away with this because it holds a monopoly over its sector of the education industry. With the exception of the ACT, there are no widespread alternatives to College Board's services.
Ultimately, despite using the official-sounding and philanthropic title of "not-for-profit," the College Board is involved in many pursuits typical of a for-profit corporation. They run a surplus year after year, they compensate their CEO with a salary of over a million dollars and they take advantage of high schoolers and their families across the country by charging egregious sums for their services.
To retain the title "not-for-profit," College Board needs to become more charitable and more supportive of high schoolers as they navigate the difficult college admissions and entrance examination process. If it can't reach this goal, it should abandon the nonprofit title, and with it, leave behind the enormous economic benefits it has been granted.
Opinion articles written by staff members represent their personal views. The opinions expressed do not necessarily represent WSPN as a publication.
About the Contributor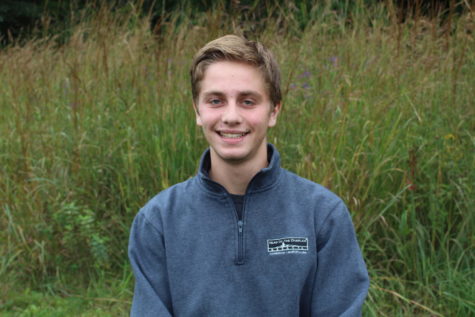 Alex Janoff, Business Manager
Alex Janoff, class of 2019, is WSPN's business manager. He is a first-year reporter. Outside of school, Alex is a coxswain for Wayland-Weston crew and...