Artist of the Month: Kaiyang Zhang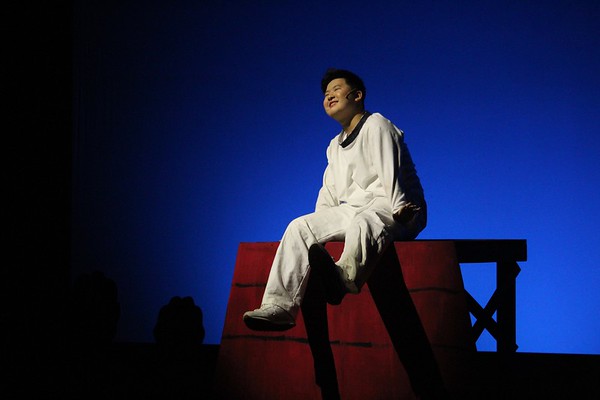 While acting and participating in plays may be a hobby or a simple pastime for some, it is a deep-rooted passion for sophomore Kaiyang Zhang. Zhang has been acting for around four years and finds inspiration and happiness within the walls of a theater.
"I am inspired by the feeling of creativity, the adrenaline [and] the rush of happiness when performing," Zhang said.
For some actors, drama may come naturally to them. Zhang, however, was introduced to the art by casually signing up for an acting class. Coincidentally, Zhang soon discovered a newfound love for acting.
"I started [acting] because my mom forced me to sign up for it," Zhang said. "I didn't know what I was doing at first. After the first show I actually ever did, I found a new love for it."
Zhang made countless memories throughout his years and continues to come across new ones, but one moment plays a special role in his mind.
"[My favorite memory] is the very first show I did which was 'South Pacific,'" Zhang said. "It was special because it was the first time I was in a professional show."
Zhang has had a lot of success in Wayland. He played Snoopy in the fall in "You're A Good Man, Charlie Brown", and played Josh in the Winter One-Act Play Festival, "Pronoun." "Pronoun" was a State Finalist for the METG Drama Festival, and Kaiyang received the honor of being named to the All-Star Company for acting achievement for his role of Josh. Not only does Zhang participate in in the Wayland Community Arts, but he also does his fair share of acting in his outside life.
"[I am a part of] WHSTE," Zhang said. "There was [the] Warten Musical which was in New Jersey that I was a part of and other things that I have forgotten the name of."
Despite the new and imaginary roles that actors take place while on stage, Zhang ensures that he truly embraces the uniqueness of his own character. Acting takes Zhang to another place as he develops himself deeply into the play.
"Everyone does [acting] their own certain way," Zhang said. "Everyone has their own type of acting because you put your own character into the story. It's special, but my certain acting is special to me, and another person's character is special to them because they created it."
While acting takes him into a different world, Zhang also appreciates the new perspective that every new character gives him.
"Acting means a different perspective on things," Zhang said. "Everything gives you a new feeling and a new expression. Acting gives me this new perspective on different subjects and matters because of how they are portrayed through the writing and the acting."
Zhang hopes to continue acting throughout his future and make a career out of it. He loves the art and wants to grow his skills and be happy with acting in his life.
"I want to further grow and cultivate my skill," Zhang said. "I want to better myself so I can find a place where I can act to express myself and get money. I want to find my own self and I want to be happy doing what I love."