The Green Team: The meaning of the plastic whale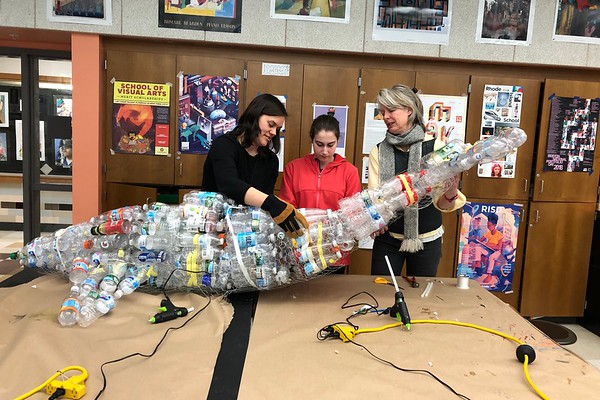 For many students, lunch is their favorite part of the day, when they get to chow down on their snacks and meals. Ensuring that all of the waste is properly disposed of, the Green Team works hard to spread the message "when in doubt, throw it out."
"Right now, we are trying to promote different options like bringing a reusable water bottle or buying a reusable Starbucks cup," sophomore Green Team member Elizabeth Micolisin said. "It's all about taking small steps first and then completely taking it out of your life."
While classes were winding down before April vacation, the Green Team was busy preparing for the 2019 Earth Week by making posters, organizing events, and creating a structure of plastic water bottles into the shape of a whale.
"We started preparing [for Earth Week] around February, and we had people working on the movie, the planting survey, the posters, and the carpool event," Micolisin said. "Everyone was working on different things but we all helped each other, so if you were focusing on your task it didn't take a lot of time, but it did take a lot of preparations."
As for the plastic whale itself, it serves as a visual reminder to students and faculty to think about their plastic usage and the way it affects the environment. The Green Team advisor, English teacher Sara Snow, says the inspiration for the art was due to the harm that these whales are facing every day.
"[People] keep finding all of these whales that are washed up dead on the shores, and they're opening up their stomachs and finding that their stomachs are full of plastic that people have thrown into the sea, or that people have dumped garbage into the sea," Snow said.
By creating the plastic whale, the Green Team hopes to promote a worldwide message that is important not only for the environment but also for our own lives.
"I think the message that I really want to get through is that when we harm animals we harm ourselves because we cannot live if we are not a part of an ecosystem," Snow said. "We're not removed from animals, we are part of that ecosystem, and if we harm that ocean and those animals, then we ultimately harm humanity and that is the biggest problem that is facing us and our children and grandchildren."
The team is ambitious and continues to try and limit the usage of one-use plastics throughout not just the schools but also the entire town.
"We've been collecting signatures to ban plastic bottles in Wayland. That's quite a radical thing to do and yet so many kids have signed the petition," Snow said. "I said to the Green Team, don't make people sign it, really make them understand what it is they're signing cause they still see people carrying their single-use bottles."
In addition to their short-term goal of reducing the use of plastics, the Green Team has a continuous goal of creating a safer and healthier environment.
"[Our purpose of the club is] to make the community a better environment," sophomore Green Team member Allen Zou said. "To make the world a greener place [by] starting from the community."
Although this week may be specifically known for helping out the Earth, the Green Team expects for every day to be Earth Day. One takeaway that they hope to see from this week is new faces joining the club.
"The goal right now in the short term is to raise awareness and to make people activists," Snow said. "Not just to think about these issues, but to do something about it, and show students how to do things, how to get projects done, to follow through, and also to make their cafeteria more sustainable."