Green Team accrues 300 signatures for plastic ban petition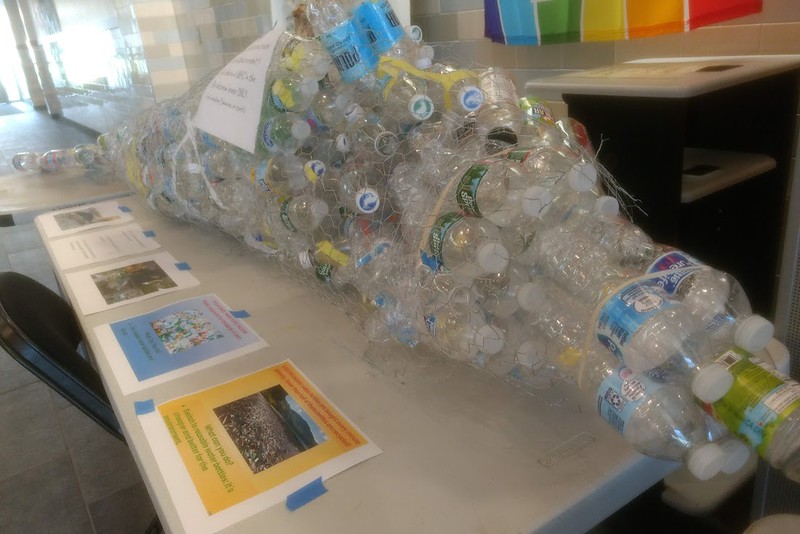 Our society is all about convenience. We always need easier access to media, transportation, food, clothes and so on. While we cruise through with our fast-paced lifestyle, it's easy to forget that with convenience, there is a cost. One of our most common vices may also be our most harmful: plastic.
After decades of producing more and more products for a lower and lower price, our society has become dependent on plastic. It holds our iced coffee in the morning and makes up the straw we sip it with, contains our water for the day and our milk at lunch, laminates our papers, holds our snacks and sandwiches and carries our groceries and this is just the tip of the iceberg.
Why does our use of plastic matter? What's actually so dangerous about something so useful? As it turns out, the Green Team is warning us that our shiny addiction is causing the destruction of an entire ecosystem, and we're only in for the problem to get worse.
"A lot of whales and other marine life are being killed off by this plastic," Green Team adviser Sara Snow said. "I think there's another statistic that by 2050, there will be more plastic in the ocean than animals, which is a really scary idea."
Although a significant amount of damage has already been done, there is still hope for improvement through environmental activism. Here at WHS, this activism comes in the form of the Green Team, who are striving to create change in the way we treat the world around us. Their current goal is to reduce the amount of plastic that Wayland burns through, and the way they're going to reach this goal is through a petition that students could sign at lunch during Earth Week.
"The petition is to ban disposable plastic bottles – single use plastic bottles – and straws that aren't recyclable, like plastic straws in Wayland [as a whole]," Snow said. "Not just in the high school, but the whole town, in the same way that they did plastic bags a few years ago."
The banning of plastic bags in Wayland's stores aided in the reduction of the town's carbon footprint, and this new ban would elevate this progress even further. However, if Wayland were to reduce the amount of plastic in its trash cans, the town would need to find a suitable replacement. WHS relies on plastic bottles for things like water and seltzer, so the school would need to find an alternative. Luckily, WHS isn't the first to attempt this, and we can follow in the footsteps of other schools.
"Another thing we should look into is contacting other schools that have phased out plastic bottles, and they have cans," Snow said. "They have cans of water, cans of orange juice, cans of apple juice, cans of seltzer and cans you can return and get a deposit on them, so that might be something to look at as well."
If the cost of cans remains in the budget, it's possible that we could make the shift from plastic to aluminum. However, the real change lies in the habits of students. With or without the plastic ban, students would need to reduce their use of plastic products for the community to make a true change. This isn't an easy task, but the Green Team has faith that students can make that change.
"It would be about changing habits and changing attitudes," Snow said. "Some of them are easier, some of them are harder."
One could say that the future of the planet lies in the young. It's the job of students to decide what the world should look like when they're adults, and if they want to carry on with the status quo or make a change for the cleaner. If WHS students sacrifice convenience for sustainability, Earth may look worlds different, and that's exactly what the Green Team is striving for. By sharing their voices, this team is leading our community towards change.
"Anything that comes from students, anything that comes from the kids, anything the kids care about, I think is taken much more seriously than if adults propose something," Snow said. "I don't think students understand how powerful their voices are."
About the Contributor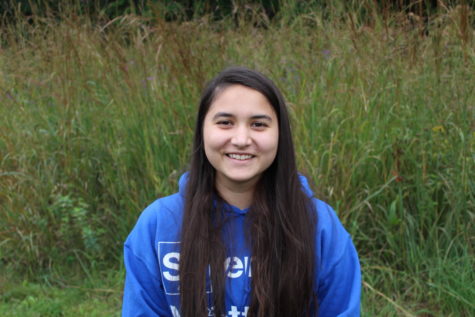 Madeline Maurer, Staff Reporter
Madeline Maurer, class of 2021, is a first-year reporter at WSPN. After school, Madeline performs in WHSTE's plays and musicals and serves on the board....