Clarissa Briasco-Stewart: I help tell the story in the same way that the music helps tell the story in a musical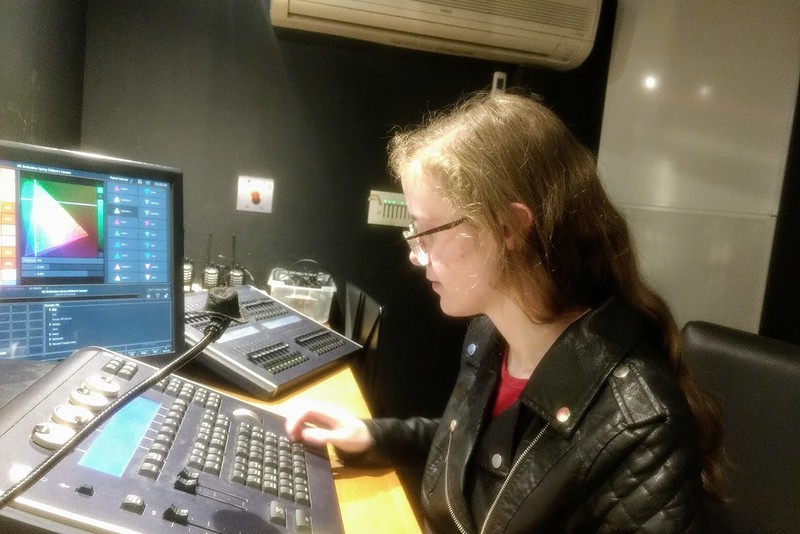 Anyone who has ever set foot on a stage understands how much work goes on among the numerous branches of an ensemble. Behind every actor, dancer, singer and performer, there is a team of hardworking and talented people who help them make their show amazing. From technical to scene work and beyond, it takes a village to put on a show. Senior Clarissa Briasco-Stewart is a member of such a team, and she helps illuminate the path towards great performance art.
Briasco-Stewart is a member of WHS' tech team who spends most of her time designing the lighting for events. From assemblies to performances, she ensures that every event on the stage is lit properly and meaningfully.
"I specialize in lighting, but I also know the basics of running all the other aspects of tech, which includes sound and spotlight and projection," Briasco-Stewart said. "Whenever we have a school assembly that requires any kind of light on stage or any kind of showing of video to people in the theater, anything like that, I help out with writing the tech for that. Every time we have school concerts, like the orchestra's, I program and sometimes run the lighting for those."
Briasco-Stewart isn't new to the world of tech. She's been helping out with school productions since she was in middle school, and she knew she enjoyed it since. She was on STAR-Crew, the middle school's tech team, in seventh and eighth grade. Between the opportunities provided by the STAR-Crew program and the special circumstances of her seventh-grade year, Briasco-Stewart was able to uncover her passion for designing lighting.
"I was on STAR-Crew in middle school, which is their sound, tech, and recording crew," Briasco-Stewart said. "I joined in seventh grade, and STAR-Crew focuses on [the] sound aspects of technology, so they do stuff with microphones mostly, and recording concerts. But, the first year I joined, Mr. [Tom] Large, [the former drama director at Wayland Middle School] was out, and they needed help running tech for the musical. So, I actually ran the lighting for the middle school musical in seventh grade, and I was like, 'wow, this is really fun, I want to do more of this.'"
Briasco-Stewart would go on to develop her passion throughout high school. While she does help out for assemblies and concerts, her favorite events to design lighting for are WHSTE's performances because plays and musicals offer more opportunity for creative liberty.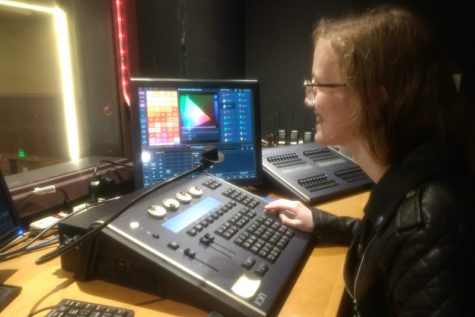 "I help out with WHSTE and their plays, I program and run lighting for that," Briasco-Stewart said. "[WHSTE is] probably the most fun stuff that I do because it's the most involved, and you have the most leeway to do fun things with it."
Though one may not realize it, lighting design is an art of its own. There's more to it than providing light. Briasco-Stewart enjoys using color to help convey the emotions onstage, and she helps tell the stories of the characters in a subtle way.
"I like the creativity of it. It's kind of like painting in that you can use a bunch of different colors," Briasco-Stewart said. "In musicals, there's a whole theory behind what kinds of lights you use for different things and what colors you use, and the different light and colors and textures you can use to convey different emotions. So, I help tell the story in the same way that the music helps tell the story in a musical; it's just both more and less noticeable than a lot of the other things that are going on."
The light board is a complicated piece of equipment, and it takes time to become familiar with it. There are many ways to do this, and each person who is involved with tech at WHS experiences that process differently. For Briasco-Stewart, this process came more in the form of experience and experimentation than formal learning.
"I still learn stuff about the light board that I don't know, because it's a pretty complex and expensive piece of machinery, and I haven't had an official training course in it or anything," Briasco-Stewart said. "Most of what I've learned, I've learned through [saying to myself], 'hm, I want to do this, I wonder how I can do that.'"
Throughout her time at WHS, Briasco-Stewart has done lighting for many shows. Although each is special in her eyes, she does have some favorites from past seasons. Some of her most cherished memories and experiences come from her work during her sophomore year.
"I'm really fond of the stuff I did my sophomore year, 'Clue the Musical' and 'The Play's The Thing,' because those are the last shows I did with Mr. [Richard] Weingartner and also the first shows where I really participated in designing," Briasco-Stewart said. "They were also really good shows."
Through her time with tech, Briasco-Stewart has made lasting connections with those she works alongside, and she takes away a different set of memories and inside jokes from every production she participates in. From her freshman year until now, she has been able to create experiences that she will remember for a while to come.
"Every show has something special about it, and there's usually one or two things from each show that get remembered in jokes that we tell among the tech team and among the actors," Briasco-Stewart said.
About the Contributor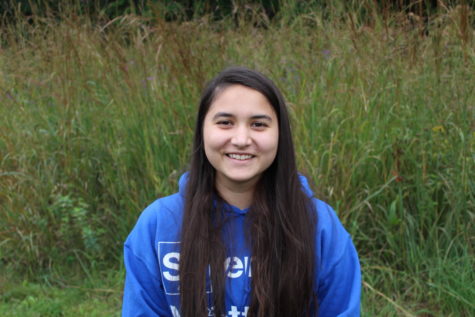 Madeline Maurer, Staff Reporter
Madeline Maurer, class of 2021, is a first-year reporter at WSPN. After school, Madeline performs in WHSTE's plays and musicals and serves on the board....