WHS seniors reflect on the college application process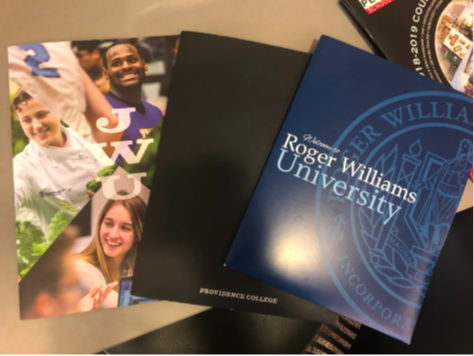 Applying to college is a complicated process that requires a lot of decisions. That is the consensus of the Class of 2019. With the majority of the seniors having decided where they will be heading off to college next fall, they look back on the strenuous process of college applications.
While starting to look at colleges may not start for most people until the end of sophomore year, or the beginning of junior year, college applications generally begin early senior year or late junior year according to seniors Anika Das and Michael Maurer.
"I'd say I started [college applications] the end of junior year, but I didn't actually start writing essays and stuff until probably the end of the summer," Das said.
Many students look toward the people in their life who have gone through the college application process before, like a friend or older family member. Others seek help from someone like a guidance counselor or college coach who have helped other students go through the process several times. Some students, however, decide it's best for them to do their applications alone.
"I did [the applications] mostly on my own," Maurer said. "I had some help from guidance, and some people proofread my essays, but it was mostly me."
Whether they did applications entirely on their own or with help from someone else, most students agree on one thing. The college application process can be defined as difficult, stressful and time-consuming.
"I think the most difficult part [of the college application process] for me was choosing what [I] want to do and figuring out which schools are good for that," Maurer said. "Also, [choosing] how many colleges you want to apply to and why [it is difficult,] because it gets expensive if you just start sending out applications everywhere."
Das felt similarly to Maurer and added that she also had difficulty finding the right school for her.
"I'd say the most difficult part was getting to know the individual schools just so I could tailor my applications specifically to each school," Das said.
Finding the right school is much easier said than done. It can often be challenging to find a school that fits your educational and even social criteria.
"I really had to think about what I wanted to do," Maurer said. "I decided I wanted to go into engineering, so I looked at colleges with strong engineering programs generally and just went from there."
While the college application process can be troublesome, some seniors have offered their thoughts on what they wish they would have known before taking on college applications.
"I probably would've thought more about where I wanted to be because then I probably wouldn't have applied to certain places," Maurer said. "I also wish I'd known to apply to fewer schools. For example, picking some target [schools], safety [schools] and maybe some reaches."
Another common topic of what students wish they would've known was recycling answers to essay questions for different schools.
"A good idea that I kind of realized late in the game was a lot of the things you write, you can re-use for different schools," Das said. "Lots of the questions are similar – you just have to add specific details from the school."
In a survey sent out to all students in the Class of 2019, seniors were able to anonymously answer what they wish they would've known before filling out applications.
"I wish I knew that if you get everything in earlier, it makes it a lot easier on you stress-wise," an anonymous student said. "Also, most coaches aren't as formal as professors and administration, so you can be more honest and friendly with them. They should almost be one of your friends by the end of the process."
The seniors also offered some general advice to students who are preparing to begin the entire college process.
"I'd say really think about what you want to do and visit as many colleges as you think you might be interested in because it takes a while, but it really helps make a decision," Maurer said. "I would also say don't apply to too many schools. Know yourself and where you'll probably get in and where you'd want to go."
Another popular piece of advice from seniors was to think about where you might want to live for four years and where you'll have the most success as a student.
"Don't just shoot for prestige when deciding where to apply or enroll," an anonymous student said. "Make sure that you actually want to live there for [four] years, call that place a home, succeed academically and have a lot of fun in the process. The school name on your undergraduate degree isn't extremely important. Rather, it is doing well, growing as a person and enjoying a balanced life that truly matters both in the professional world, and more importantly, when trying to live a fulfilling life."
When it comes down to it, the most important thing to do while going through the entire process is to keep an open mind and know that there are plenty of people that are happy to help with the difficult parts of applications.
"I guess just keep your mind open," Das said. "Before I started, there was a specific type of school I wanted to go to, but after visiting a bunch of schools and talking to [guidance counselor Jim Girard], he gave me a lot of different types of schools that I wouldn't have thought about before."