Jay Provost: when life gives you bees, make honey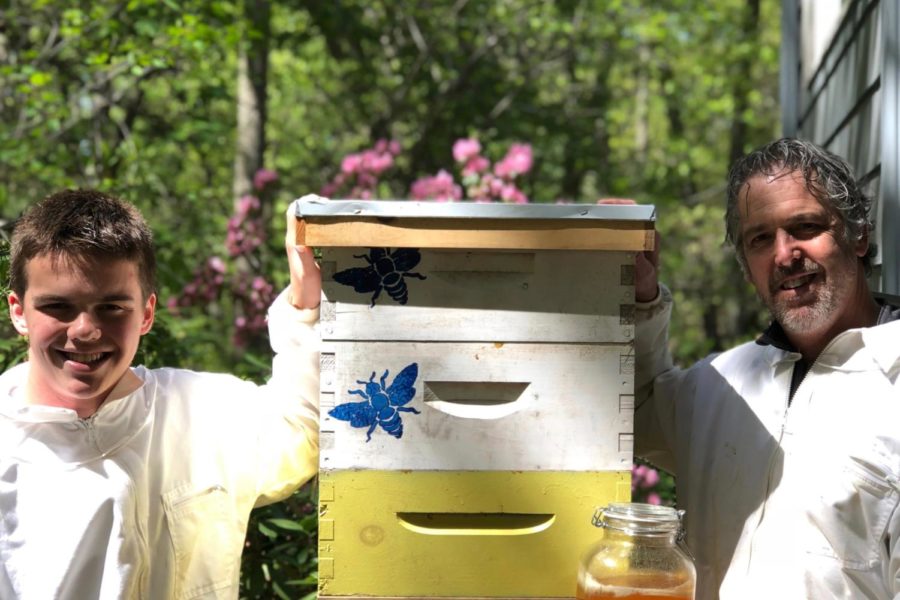 Sophomore Jay Provost has taken up a relatively unique hobby and business alongside his dad, Bob Provost. What started out as an idea lead to the creation of a company called "Bob and Jay Bees." They bought their first hives after Bob Provost suggested to Jay that they try beekeeping together, but it wasn't Bob Provost's first time around bees.
"My dad got me to start keeping bees," Provost said. "When he was younger, his dentist kept bees, and he would always go outside and look at [them]. Then a couple of years ago, we bought a few hives and since then, we've been breeding queens, and expanding our colonies."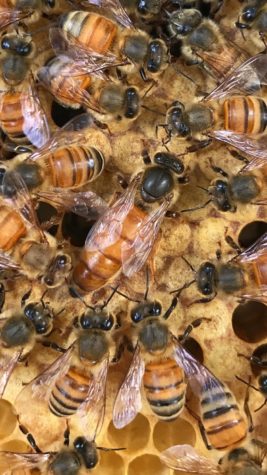 There is more to keeping bees than just collecting honey. A lot of work has to be put into the hives in order to get a sufficient amount of fresh honey.
"So, I prepare the bees for the winter, I also make sure they have a sufficient supply of food," Jay Provost said. "I make sure that the queen is laying eggs, and actually that the colony still has a queen. Then I make sure that mice aren't getting in, or that the bees won't swarm and leave the hive."
Each frame (structure of the hive that holds the honeycomb) of honey has caps on it that prevent honey from flowing out. In order for the honey to be accessible, the caps have to be taken off. The comb is tilted, meaning the honey is not able to flow out, so they have to use a machine called a spinner that cranks all of the honey out of the frames.
"I go into the hive, see if they have extra honey frames, and I'll take out the frames," Jay Provost said. "I'll scrape off the caps, and then I'll put them into the spinner. I then spin the honey out, collect it, and filter it."
Along with keeping bees as a hobby, Bob and Jay Provost have a company called "Bob and Jay Bees," where they sell their honey and merchandise. They harvest honey in the summer, and then the next spring.
"Usually we'll have three harvests in a year, a fall harvest, a spring harvest, and a summer harvest," Provost said.
Depending on the season, the honey harvest can have different outcomes, and the honey can look a little different.
"The fall harvest won't have that much honey, and the honey will be darker depending on [which] plants are blooming," Provost said. "The spring and summer harvests have lighter color honey, and the honey is sweeter."
The outcomes of honey that the Provosts harvest are pretty hefty totals. With a significant amount of honey, their ability to harvest helps them with their company.
"Last year, we harvested 120 pounds of honey during [the] summer," Provost said. "We're going to have a spring harvest this year, which we think will probably have 80 pounds of honey."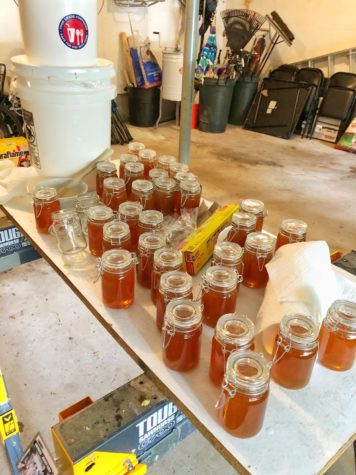 Keeping bees has really become one of Provost's favorite hobbies since he started. He can find peace in working with the hives and watching the colonies of bees at work.
"I think it's super calming, and it's nice to just go and look at the bees to see how well organized they are," Jay Provost said. "Also to get to know the colonies, to get to know the personalities of the bees, and be able to trust them. When you trust them a lot, you can go in without any protection because you can trust that they won't sting you which is nice."
Today, many people believe that honey bees are on the path to extinction due to the use of pesticides, and the general unawareness of the importance of bees. Provost had a message to everyone about the importance of honey bees.
"People think bees are scary and they sting a lot, but they don't realize that that's mostly hornets and yellow jackets," Provost said. "Bees don't want to sting unless they have to, and they're key pollinators to keep flowers and fruits growing."
Jay Provost's next message was very simple, encouraging people either to try their hand at beekeeping or to just be kind to bees.
"When life gives you bees, make honey," Provost said.
About the Contributor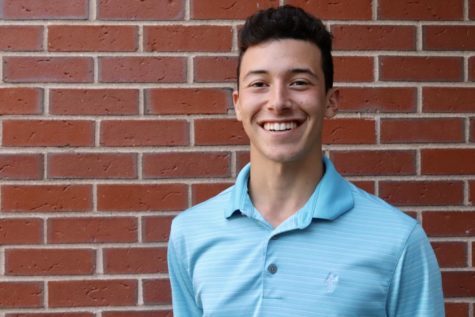 Josh Schreiber, Sports Broadcast Editor






Josh Schreiber, class of 2021, is a second year reporter, and sports broadcast editor on the WSPN staff. Outside of WSPN, Josh participates...